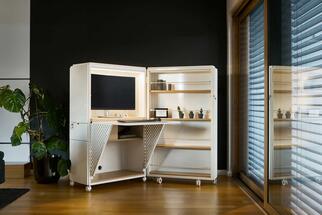 Sobočan d.o.o. is a family company from Mursko Središće with 20 years of experience and one of the leading manufacturers of furniture and equipment of high value products in Europe. With the synergy of production capacities in Murski Središće and Sobočan dizajn studio in Zagreb, it offers its clients a complete turnkey service - from design and planning, drafting to production and installation of furniture and related equipment on the building. The added value of Sobočan design studio is that after the interior design and product design, the project is upgraded by the work of our development team and production, which is completely under one roof. We are guided by the motto: everything works!
The company was founded with 5 employees in the family yard, and today Sobočan has more than 190 employees and hundreds of completed projects and many satisfied customers and partners around the world. We generate more than half of our annual revenues in export markets as an authorized partner of world-renowned brands, mostly in the German-speaking area; in Austria, Germany and Switzerland and other countries of the Western European market.
With us, it all starts with the idea and research of the needs of the market and clients. This is how we create innovative solutions, and one of them we are especially proud of is our product movo - a mobile office that we designed this pandemic year in response to the challenges of working from home.

The coronavirus pandemic and the growing trend of working from home has prompted us to create solutions that will provide a functional and comfortable workplace in any environment. Everything was preceded by research. We first internally researched what our employees attributed as a major workspace flaw, then we went further into the survey by interviewing our clients. Thanks to a large base of clients who were willing to participate in our research, we very quickly gathered all the necessary information about the daily challenges of "remote" work.
Working from home has recently become a "new normal" which means more and more people are slowly abandoning their usual office routine. Thanks to advanced technology, it is no longer necessary to work full time in a fixed office space to be a productive team member. After the idea of ​​a mobile office was "born", our design team developed a solution and we already had the first models in a short time.
Movo is a mobile office that takes up minimal space and at the same time facilitates maximum functionality and comfort. Although movo models are visually different, their unique features are mobility, foldability, lockability, storage space and integrated sockets. The user can choose between six language models and choose the one that best reflects his character, style and work needs. The models differ in design, size, equipment and finishing materials, and all have the ability to personalize using brand colors and company logos.
The office of the future, or rather the present, is in fact a hybrid mode of operation that the pandemic has further encouraged in those industries in which it has not been practiced so far. The experience of many companies shows that employees can be just as effective no matter where their workplace is located. It is becoming increasingly acceptable to allow employees the right to choose and organize a working day in accordance with their plans and obligations on that day. However, the universal form cannot be applied to all activities and types of work. Sometimes, depending on the tasks we have, we can easily and efficiently solve everything from home. However, there are certainly projects where we feel better and more creative when we are physically in the office and when we can exchange ideas and opinions with colleagues from different departments. When we talk about language - a mobile work unit as a solution for a functional workplace, we mean functionality and practicality, whether it is at home or in the office. Office flexibility is becoming increasingly important when designing business premises and our language fits perfectly here, as it allows easy change of workplace within any zone of the office and easily adapts to work requirements. Thus, we can easily move our mobile office to a zone that will provide us with ideal working conditions and efficiency that day, depending on the job description that working day.
When we think about the office of the future, we are sure that more and more attention will be paid to more careful consideration of renting office space and square meters that remain unused because employees work part-time from home. Here, too, movo can be a solution, as it allows each employee to have their own movo work unit that they simply "park" while not in the office. While closed and not in use, this product takes up minimal space. Upon arrival at the office, the employee takes his mobile office where all his belongings are already located and only "activates" it by opening a position in the office where he wants to spend his working day. This is certainly one of the ways to optimize the workplace to which everyone is now paying more and more attention.