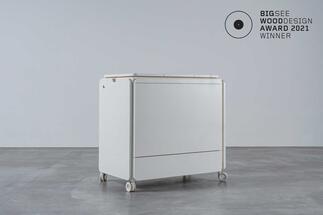 Movo - the innovative mobile office of the Sobočan company was awarded another prestigious international award, the BigSEE Wood Award 2021, for the best design in the category of wooden furniture, and it was also nominated for the Grand Prix.
BigSEE awards are given by the Big Institute - Center for Creative Economy of Southeast Europe, within the BIG SEE platform for support and development of the creative industry, in several categories such as BigSEE Product Design Award, BigSEE Interior Design, BigSEE Fashion Design Award, BigSEE Wood Design Award and BigSEE Toursim Award.
Thus, in less than a year, he won three prestigious international awards. In addition to the BigSEE Award, he recently received the ICONIC AWARDS: Innovative Interior, an award given by the German Design Council, and in the meantime won another prestigious international recognition of the profession which will be announced in the coming months.
Movo mobile office was designed in less than four months from the first idea, realized by a team of designers and architects Sobočan design studio.
"All these years we have been perfecting in the production and development of products for our clients, and movo is our first own product that captures the attention of the market and the profession with its design and execution, which is confirmed by these valuable awards. We recognized the opportunity and designed movo - mobile work units, several models easily adaptable for comfortable and functional work from home, but also for a flexible workspace in offices. Movo is special for its modern and innovative design and performance because it takes up minimal space, but provides maximum comfort, with a very simple assembly of work space, "says Anamaria Burazin Eškinja product designer and office manager Sobočan design studio.
Modern office solutions that save space are increasingly in demand today, and movo models, in addition to the functionality they provide, are designed and executed in such a way that after work they easily turn into a modern design element. Already now, it is available in six models, which differ in design, size, equipment and finishing materials, and it is possible to personalize them by applying brand colors and applying the company logo. Each of the models is mobile, foldable, equipped with an electrical box and storage and has the possibility of locking.