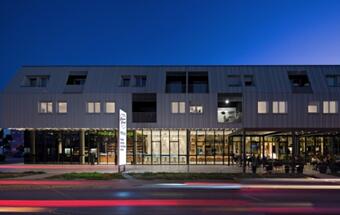 This year's edition of the global competition, which recognizes the world's best construction projects in several categories, hosted as many as four Croatian projects as national finalists in Mexico, and ultimately awarded the project for the construction of a residential and commercial building in Kutina by Miroslav Rajić and Marin Račić from the MR2 architectural studio with second place in the category. Residential buildings.
The competition for the CEMEX Construction Award brings together projects from a number of countries every year, and prizes are awarded in four categories with special prizes for projects that bring social value, innovation, accessibility or are good examples of sustainable construction.
"We are very pleased that Croatian projects have been systematically winning awards for years in this competition, the aim of which is to encourage innovative construction practices. This is a clear sign that our architects and builders can compete with experts from all over the world and that Croatian construction is becoming more and more recognizable in its quality and creativity. I congratulate the authors of the project on this award and wish them many new successful projects and recognition", said Alen Voloder, CEO of CEMEX Croatia.
Under the slogan "Ideas that build life", this long-standing competition aims to highlight the world's best examples of construction that creates added value for end users.
International winners of the CEMEX Building Award 2022 by category:

BASIC CATEGORIES

Residential buildings
Casa Tejocote, Queretaro, Mexico
Residential and commercial building in Kutina, Kutina, Croatia
Residencia Chwaliszewo, Poznan, Poland
Public and business buildings
Capilla de la Tierra, Yucatan, Mexico
Montenegrin Academy of Sciences and Arts, Podgorica, Montenegro
Rehabilitation Hotel "La Compania de Jesus", Panama, Panama
Common spaces
Pilares Presidentes de Mexico, Ciudad de Mexico, Mexico
Jadin de la coverita del Hospital Maternidad de O'Donnell, Madrid, Spain
Construction of a promenade on the Morača River and reconstruction of Njegoševo Park, Podgorica, Montenegro
Infrastructure buildings
Moračica Bridge, Podgorica, Montenegro
Conexion en la autopista Cebu – Cordova, Cebu, Philippines
Teleo, Toulouse, France
Projecto de transito del tren ligero, Cairo, Egypt

SPECIAL CATEGORIES
Sustainable construction: Embajada Suecia en Mexico, Ciudad de Mexico, Mexico
Accessibility: Mi Macro Periferico, Jalisco, Mexico
Social value: Moračica Bridge, Podgorica, Montenegro
Innovations in construction: Centro Cultural "Quinta Montes Molina", Yucatan, Mexico