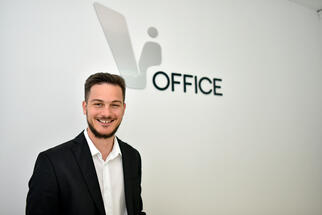 Virtual office Croatia is something new in our market, can you tell us a bit more about your project?
Of course. The concept of virtual offices abroad is already quite popular, but now we can say with certainty that Croatia is not far behind the new trends. As work from home is no longer unknown to a wider number of companies and the self-employed, and the lease of physical offices is not necessary, virtual offices have really reached the peak of their popularity, so more and more people are opting for them. Until a few years ago, we only had 20 clients, but over time, people have recognized the benefits of a virtual office, so at the moment we count over 150 satisfied clients worldwide.
I would especially like to point out our Voffice app, which is actually an "office on the go". Through it, you can book appointments, read our blogs and find scanned mail in one place, store certain documents and much more. The very idea of ​​virtual offices is based on technology, especially one that enables online communication, because without it, virtual offices would still remain just an idea.
In addition to digital nomads, virtual assistants are a taboo topic in public space in the Republic of Croatia. How can we hire a virtual assistant and what exactly does he do?
I would not really agree that they are a taboo topic, only people are not so familiar with them yet, and they need to get closer to the whole concept of their work. Also, virtual assistants in Croatia are becoming increasingly popular just like virtual offices.
If you are a small or medium entrepreneur and you do not have the time or knowledge for certain jobs, a virtual assistant could be the right solution for you. You no longer have to have a full-time employee, but take a virtual assistant as needed and pay exclusively for the work done, in accordance with the volume of work and time spent. Its most important advantages are definitely the savings of money and time, which are of crucial importance to all of us.
The jobs that a virtual assistant can perform are business consulting services, company representation, office management, business organization and other related services, then the tasks of marketing manager and PR manager (communication with clients and media), etc.
How to hire one?
Very simply, contact us on our email or by phone and in accordance with your wishes we form the entire offer and the price of the virtual assistant. Our specificity is that we are very flexible and ready to meet the maximum and adapt to the wishes of the client.
What does a virtual office allow you to do?
The virtual office allows small and medium-sized enterprises and the self-employed to work from home, with various services available to them via the Internet, the same ones they would use if they rented a physical office. The emergence of the virtual office was made possible by the emergence and development of communication technology. It has enabled a large number of people to change their work habits and organization of work space. Establishing a virtual office is more cost-effective, not only because there is no need to lease office space, but also because virtual office users can choose exactly the services they need. We as a company offer several packages, each of which includes basic services such as address, mailbox and notification of arrival of mail. If you need more than that, we offer packages that include the company logo at the entrance to the business premises, full branding of the company on site, virtual assistant and secretary services, reception of packages if you have a web shop, use of conference meetings, etc.
Also, I would especially like to highlight our Virtual branch office package which enables foreign citizens to enter the EU and the Croatian market. One day is enough to open a company with us, without the hassle of bureaucracy and expensive and time-consuming business trips. Our team consists of experienced professionals who work with many foreign clients and based on their requirements we help them research the market, manage projects, provide business advice, negotiate appropriate distribution channels and handle the entire marketing for your product and services.
One of the more important items for the end is that all packages are changeable and you can add or cancel certain services if you no longer need them.
In addition to financial viability, the basic service of virtual offices is the address of the company's headquarters, which will give a more professional image, whether it is a newly established or already established company.
Do you believe that online or remote mode will survive even after a pandemic?
Definitely will. In this pandemic era, people have seen all the benefits of remote work, and it will be very difficult to get everything back to normal. Remote mode can be called "new normal".
People liked that from the comfort of their home or some other location they could do their job and manage their time on their own. Holding a business meeting while you're actually in your pajamas used to sound almost impossible, but nowadays anything is possible and so is that, and people obviously liked it. In addition to the benefits that employees and employers have, they also benefit. Employee productivity has increased and the cost of paying for office supplies and transporting workers has been reduced.
Some new forms of work are coming to us, new models of offices, new models of office furniture. What does it take to register a virtual office?
To register a virtual office, you need to fill out a request and consent to the contract to provide a business address, which we send to you by e-mail after your inquiry. The request should provide basic information about the company and its director. After that, the contract itself is drafted and all the remaining necessary documents are issued to start using the virtual office. In most cases, clients already have an open company that they report to our address, but there are also those who have just started the opening process and at the very end of the same application the company to our address.
And that's it! You have a virtual office in a representative location with minimal costs and our support team that is always ready to meet you and adapt to your wishes.