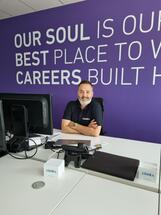 1. Tell us more about your company, how long have you been operating in the Republic of Croatia?
Our company was originally established in 2005 and since then it has grown organically in Croatia and in the Adria region. Today, in addition to Croatia, we are present in Slovenia, Montenegro and Macedonia, where we help domestic and large international companies in managing their Facility Management process. Our focus is on Integrated Facility management where we combine all FM services for our clients according to the concept - ONE CONTRACT ONE BILL.
2. What is your opinion about Facility Management in Croatia? And what is the current situation in the region?
Facility Management is a relatively new discipline and has been present in Croatia for about twenty years. The average room is unaware of what Facility management is. They understand the role of the cleaner but Facility management is a much, much more complex process than just cleaning. It's part of that invisible economy that you only notice when it's missing. If the cleaning lady doesn't clean the office, after a few days someone will notice. But if the cleaning lady is conscientious no one will notice that anything has happened. It is the same with the technical service. Changes occur when the director in the office dies. In my experience, these jobs within companies fall into portfolios: general jobs, human resources, or procurement.
3. How much has the COVID-19 crisis affected the Facility Management market?
After conducting an analysis of publicly available data, most FM companies generally had an increase in revenue due to the demand for more frequent and detailed maintenance of facilities due to the COVID-19 crisis. While some smaller offices cut costs from working from home some other spaces like factories or logistics centers began to invest more in the cleanliness of their facilities. We grew strongly during the crisis by adding new facilities to our management portfolio.
The property is binding. Although the value of a property is written off (depreciated) for twenty years, the value of that property remains the same (or increases depending on the market) but only if it is well maintained. It is our job and I invite everyone who has a long-term vision for their property to contact us with a request to maintain their facilities.
4. How do you find future projects and business partners?
By phone. Of course, we also use modern technologies such as Google advertising and social networks in communication with our potential clients, but the sale of Facility Management services happens "face to face", live. Luckily our people are great at it. Our colleague Blaženka Dudaš, regional cleaning manager, with her communicativeness, authenticity and knowledge is often a decisive element in the final judgment of the client to choose us to take care of her property.
The phone is only the first step in the process and serves to schedule an inspection of the property, assess its condition and the client's needs (maybe they need a housewife in the office, water and fruit delivery or some other soft Facility management service). This is followed by an offer, signing a contract and carrying out the work.
5. Do you expect any changes in business in 2022?
Of course. With greater vaccination, we expect people to return to the offices. In the US, a market much more developed than ours, the number of jobs that are fully remote has tripled and is now at seven percent. The office will not disappear, it will not fail. Properties can change purpose but as I mentioned once you build them they come with maintenance obligations. I expect that awareness of these obligations will grow among those in charge of long-term asset management and that Facility Management will continue to grow strongly.
We are satisfied with the imminent start of the East Gate Mall in Skopje, which we are maintaining, and I expect a strong expansion in the region and the opening of the Serbian market.
Do you have an additional question for Siniša. Contact him by email - [email protected]
You have an interesting topic that you would like to talk to us about. Contact us at [email protected]