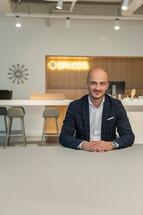 What are your predictions of what will happen to office business in the future? Covid-19 has greatly influenced changes in that segment?
The trend that started even before the pandemic intensified and further strengthened the need for flexible office rentals. Currently in the world about 3-4% is flexible rent or serviced office rent and it is predicted that by 2030 the percentage will be 30%. The fact is that all corporations are looking to disperse employees according to places of residence and the outskirts of the city, which is happening intensively in large business centers in Europe, such as London, Paris, Amsterdam and Dusseldorf. In our country, working from home is not regulated by law, while the need for people to work where they want and the way they want is growing, so it is to be expected that the market will consolidate and over time we will see how large HQ in office buildings will replace more locations. city ​​which we can confirm by the growing demand for smaller offices on the outskirts of cities.
Have your tenants returned to the offices?
We would say that about 90% of our tenants returned to the offices, however, in different engagements, with optimized space for employees (through various services we offer such as memberships or only access to business lounges) and the schedule of visits to the office.
Will there be changes in business conditions, reduction of rental prices?
Our market has never been so volatile and we believe that rental prices will be kept within standard limits. This is supported by the current occupancy of business premises and insufficient availability of space in Class A buildings.
What are the specifics of Croatia compared to other EU countries in which you also operate?
Primarily insufficient choice of locations in all parts of the city and the number of employees of the same company in larger markets, of course, which in itself determines the capacity that is very important for market education through the availability of the service. Classic rental is still more prevalent in our country, but even now it is changing after the pandemic, which will lead to the developer increasingly integrating flexible rental through partnerships with our group, which have come to life in foreign markets.