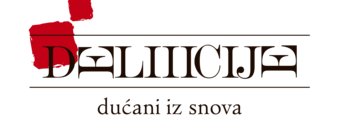 Tell us something about your company, what exactly do you do?

Deliiicije is a small specialized chain of stores with the main focus on sweet and fine. We also offer salty delicacies (sauces, truffles, spices, oils, ajvari ...), but we are still best known for a large selection of chocolates, biscuits, cakes and other sweets. We opened our first store in 2007 because we could not find the delicacies we were looking for anywhere in Croatia. To buy good pralines, we had to drive at least to Vienna, and that is simply not practical. We listened a bit and realized that we are not the only ones, and that in the whole of Croatia there is a whole legion of gourmets and gourmets, who love fine things as much as we do. We started this business without thinking too much, just before the big financial crisis, but since we have been in business for 13 years now, obviously not even bad timing can ruin a good idea :)

The time of Christmas is approaching, the time of giving. What do you think are the best gifts for business partners?

Business partners are people with whom we often spend a lot of time, and yet we know very little about their affinities, tastes and desires. With gifts for business partners, it is necessary to find the right balance between the neutral but not the generic; rich but not too expensive. That gift must speak on our behalf about the gratitude and respect we feel.
Therefore, we recommend our ready-made gift packages for business partners. For business partners from abroad, we recommend gift packages with local products, such as Zlatarevo zlato or Gušti, while "our" people will surely be delighted by any combination of local wine and Swiss chocolate, gift package Chic or gift package Oro. It is also convenient to mention that we have a web shop and that we deliver to all EU members in addition to Croatia.
With a business gift, you can stand out well and present your company in a different way. What do you think about that?
Gifts often say more about the giver than the giver. If you have neither the time nor the gift idea, you can always contact us with a rough idea and budget for the gift, and we will do the rest. We can also personalize your gifts - make a special design for chocolates and chocolates, put your label on wine or liqueur, add a message ... We are especially proud of our wrapping skills that turn every gift into a work of art. You can also see how we package the products in the video.