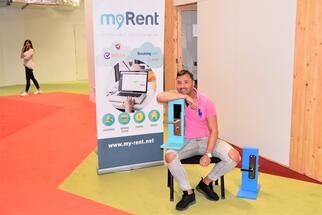 Tell us a bit more about your startup, what do you do?
MyRent is an all-in-one solution in tourism.
After being private renters ourselves for years, we realized that travel agencies and private renters use different software solutions to run business processes. Such as channel manager, property manager, reservation system, financial modules, manual entry of trips and transfers and even record keeping in excel spreadsheets… and MyRent is all solutions packaged in one software that can be used to run a complete business.
Tell us a little more about the Property and Channel management system. Explain briefly how your platform works?
MyRent Cahnnel manager completely solves the worries about synchronization for renters, while increasing the number of reservations for official and certified booking connections. Channel manager automatically receives reservations and all reservation data (prices, guest data, dates, etc.) from any booking portal from which the reservation came in real time and closes all other booking portals for that period.
MyRent Property management is a central system that manages and keeps records of reservations, apartments, rooms, guests, accounts and everything needed for efficient day-to-day business. We offer two levels of modules, basic and advanced.
Also, MyRent PMS is fully compatible with Channel Manager and does not require additional administration for system users.
How many employees do you currently have, and in which markets are you currently represented?
We have nine employees, three of whom are students. Currently, our main market is Croatia, but we also have customers in Portugal, Dubai, Austria, Switzerland, France…
Who are the users of your platform?
Our platform is intended for everyone who offers rental of accommodation units and additional services such as excursions and transfers. We mostly work with travel agencies, private apartment renters, holiday homes and villas, camps, hostels and smaller hotels.
Your opinion about the startup ecosystem in Croatia?
We believe that the startup ecosystem in Croatia is gradually improving, but that the risk and lack of investment hinder young people from taking the first steps. Our great advantage is our membership in the EU because it facilitates development and expansion into larger European markets.
What are your plans for 2022?
Our main plan is to expand even further beyond the borders of Croatia. We plan to do this using a new and simpler version of MyRent called SyncBeds (www.syncbeds.com). We will continue to operate and develop the MyRent system on a daily basis to meet the needs of the fast-growing market.