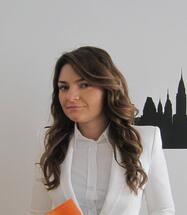 1.       Can you tell us something more about your company Atalian Global Services Croatia, development through history? 
The company with its original name Ekus Ltd. was founded in 1989. The basic activity of the company Ekus Ltd. is providing solutions for companies through the outsourcing process. The main activities that we offer to our clients are cleaning of office spaces, technical maintenance of business premises, horticulture and other facility management services. We are focused on business entities, on their business properties, where we try to offer all maintenance solutions. Today, we maintain more than 700 000 m2 at over 600 locations all over the country while employing nearly 1,000 people with a tendency of further growth.
In 2010, Ekus Ltd. entered into the French group Atalian, selling its majority stake, with a tendency of selling 100% of the property through the 5 year period. The local name has recently been changed to the Atalian Global Services Croatia and the company will continue to operate under this name.
Atalian briefly:
• French group founded in 1944, headed by Mr. Franck Julien,
• 60,000 employees
• 14 countries: France, Czech Republic, Croatia, Romania, Hungary, Slovakia, Poland, Belgium, Luxembourg, Lebanon, Morocco, Turkey, Indonesia, Mauritius
• 20,000 customers
• Annual income of over 1.2 billion euros
Atalian is a Facility Management Company, but we often use the term global service provider because we are strategically planning to provide 85% of the in-house services. To achieve this strategy, Atalian bought over 180 companies in the past 18 years, mainly in the field of cleaning, technical maintenance and physical protection. In the today's global market, Atalian is one of the top three European companies in the field of Facility Management.
2.      Is it hard, in these days, to find people that would like to work in cleaning services in Croatia?
When someone mentions that enormous number of unemployed, everyone would think it is very easy to find new staff, however it is not. The quality recruitment should be done probably as well as for any other position. The problem is that today, due to the large number of unemployed in Croatia, everybody applies to our ads: unqualified / qualified / overqualified workers. The recruitment itself takes too much time, and the people often beg for a work place. But when we draw the line, we can say that we find specific staff successfully. Salaries are on time and they have never been late a day, and that's what among other things, keeps workers. We are especially pleased that for 15 and 20 years of work in our company we are granting jubilee prizes for our employees. It means a lot.
3.      How do you search for your future projects/partners?
10 or 15 years ago it was hard to convince companies to choose outsourcing, but today the majority of companies in Croatia have a need for this service. However, the bigger problem is getting a contract due to the price criteria. The crisis has not missed this branch, the prices are lowered to the profitability limit and dumping companies are no exception. Although it sounds very tempting to reduce costs, the quality of service is questionable, because service still has its limit costs, and everything below that is unrealistic and short-lived. We are interested in long-term cooperation with clients based on trust and partnership support.
The company Ekus is on the market for over 25 years, and throughout this period we established cooperation and contacts with the majority of companies in the market. Earlier we didn't even invest in a classic marketing, but relied on recommendations from the clients. Although this process is slowly giving results, on the other hand it is very safe. On a daily basis we are in touch with clients and potential clients through diverse modes of networking. Also, the group has brought a large number of contacts of international companies that are present in our market.
4.       Are you following global trends in this kind of services and can you tell us more about it?
You need to follow global trends, especially when you're in the global market. A trend which is for a long time present on the global market appears more often in our market: companies are looking for one "provider" who will provide them with all FM services - cleaning, technical maintenance, security, horticulture, winter service and so on. In layman's terms, in this way Client reduces the amount of Client-companies that he works with, and he gets a better price. The advantage of our industry is that there are large possibilities to increase the portfolio which allows us further following trends in the global market.
5.      Are you planning any changes in your services in the close future?
From the aspect of service, we are constantly working on expanding our portfolio by listening to our client's needs. Our global colleagues have launched Energy Management service and they have already achieved success with it. Briefly, it is an energy saving service or service of saving unnecessary consumption. The service concept is very interesting because the investment returns within three years, from where it continues to save energy costs for 20%. Regarding to the changes, we are planning to expand on neighboring markets, where Zagreb will become the regional center. In fact all profits are invested in the expansion to foreign markets and the expansion of services through the takeover process.
6.     What are you expecting in 2015. comparing it to 2014.?
We are expecting further fight J . We believe that the market and the opportunities will not change too much, and to overcome the crisis we still need to wait a little while. Our strategy has always been slow and stable but constant growth, which kept us on the market in a time of crisis. We invest in our resources in terms of staff, technology and we are learning from the experiences of the colleagues from foreign markets. But we also believe that the crisis has its advantages: market will be "cleansed" from low-quality companies that, whether we like to admit it or not, took piece of the pie. Our group's goals are always set high but they are also always achieved. So if we keep track on experience, we plan to double internationally. And how will we achieve it? Simple, with the Power of Atalian, with all 60,000 employeesJ.