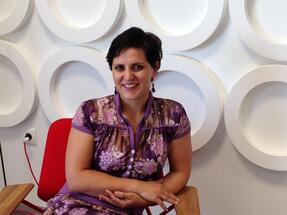 When did BEE at work start up in Croatia?

Bee@work business centre opened its doors this year on May 2nd. It had been a year in preparation, from the time of conceiving the idea of a business centre to settling on the final look. Over this period, there was a lot of market research and concept development done before we could finally bring it to fruition.

What difficulties did you encounter in the beginning?

At the very beginning, it was a challenge to find the model that best suited the Croatian market. We had several ideas, like a business incubator, a hub, a traditional lease of office space et al.,  before we finally settled on the idea of a business centre. Market research has shown that there is a high demand among small and medium-sized companies for this form of renting, particularly in the eastern part of the city where such a concept has not developed so much. Smaller companies, whether Croatian or foreign ones, in the first years of business, and often for a long period after, require a functional office for 2-4 persons with everything in one place. It starts with furnished offices with all the necessary infrastructure in order to reduce the initial cost to each company, and then there is the organization of cleaning, maintenance, utilities etc. We also provide administrative support, in the form of the receptionist and business secretary.
How many employees do you have and are you planning to create new jobs?

Bee@work business centre is an investment of the French company Bee.Activities ie. Bee familly Holding and for now there are four of us in the Croatian team. More openings for positions are expected as the business centre goes through a phased expansion.
I joined the centre earlier this year when most of the work and planning was already nearing completion, and my task was to develop the whole concept from a marketing and sales point of view. It is my job to organize the work of the centre in the future, which I am really looking forward to.

What has been the public reaction and how much interest has there been?

There has actually been a huge reaction. After only 10 days, we had already received dozens of calls and visits to the area; and to our great satisfaction our first clients have already moved into their new office in bee@work business centre.

There has been particular interest in the DROP IN services, as well as the virtual office packages that are ideal for companies who do not need a permanent office. Such companies are often doing fieldwork, but they need a business address to which they can regularly and safely receive mail; if necessary they can also utilise a phone line, and they have a business secretary at their disposal who they can turn to for administrative support. Also a few days a month there is the possibility to use DROP IN work places or a meeting room.

What kind of capacity do you have, and what are the busiest periods or seasons?
At our location in east Zagreb we have over 4000m2 of office space, of which only a portion is arranged in the form of a business centre, the opening of which we celebrated recently. The building is 90% full because of the shopping centre located on the ground floor, and almost 70% of the office part is for Pevec, which is located on the west wing of the building.
On the first floor there is the business centre bee@work, which offers offices for two, three or four people, fully equipped and modern, and a conference room equipped with a video conferencing system and a RELAX zone and DROP IN work places. About 30% of the offices have been let already, so we are already thinking about expanding our capacity.
In addition to its appealing, modern design, bee@work business centre is equipped with modern technical support, so that users have access to high-speed internet 50/50, Wi-Fi support, cards for entry / exit, use of videoconferencing systems and a UPS system power supply in case of power failure. All the users need is a laptop that can be quickly and easily connected to any part of the equipment, and they can immediately start working or without any interference continue their unfinished work.
Who most benefits from your services, and who are your most frequent clients?
Bee@work business centre is designed for small and medium-sized companies that are looking for fast, flexible, functional and modern solutions to meet their office needs. Modern furnishing in accordance with the new trends is ideal for companies whose employees often travel and usually carry only their laptop.
We also have companies seeking more long-term solutions. They prefer something that offers them flexibility in terms of simply moving to a bigger office when their business expands, or to a smaller office if it contracts. And they like it when moving in is simple and quick and the administration is straightforward, so here we would take care of everything connected with the offices, from utilities, cleaning, maintenance to the service of business secretary. There is also flexibility in that it is necessary to pay for the conference room only when it is needed, whereas with a traditional office lease the meeting rooms stay empty most of the time and unnecessarily consume company resources. There is also a video conferencing system that provides direct virtual communication at any time (24/7) with any part of the modern world.
The clients who use the virtual offices should also be mentioned. They are often foreign companies that are opening a representative office or a company, so in the beginning they only need a business address and only occasionally use offices or meeting rooms. We have regular clients whose employees work from home, but they need a headquarters where they can have meetings or receive official mail.

Do you have competition in this area and how do you deal with it?

Since the service that bee@work offers has been well known around the world for many years –  and in Croatia as well, though especially Zagreb, there are others providing a similar service.
What makes us special is that we are the only ones located in the eastern part of the city and therefore away from the more crowded areas. We also provide free parking space in the garage, as well as a fast and secure Internet connection.
In addition, what makes this business centre special is the administrative support that clients have access to; our centre offers the service of a business secretary, who can go to the post office for you, write a letter, an offer or an invoice, organize a business trip or perhaps make coffee for guests - depending on the clients and their needs.

Why did you choose exactly this location?

The market research we conducted initially showed that the eastern part of Zagreb is dominated by industrial, retail and storage areas, but has limited office space, especially that of a modern and more functional kind.  Our business centre is near to the airport and main roads, and close to hotels. It has parking spaces, and is less than fifteen minutes from the city centre. Also, we are located close to the Zagreb bypass, providing the fastest connection with any part of the city, because the distance between us and the airport Zagreb is 15 minutes by car, while at the same time we have the fastest connection to every part of the Croatia and neighborhood.

How popular is the idea of a virtual secretary and is there market recognition for it in Croatia?
It has been known for several years in Croatia, especially in business centres, although it is still not as popular as it is in the western countries. The advantage of a virtual secretary is recognized by smaller companies that do not have the need for a business secretary full-time, but who occasionally need administrative support. This can include everything from going to the post office or some other institution, writing offers or invoices to serving guests coffee, depending on the needs of the business. This way companies do not bear the cost of additional workers, but pay for the productive time of a business secretary who will complete professionally and quickly the agreed tasks for them.
How would you describe the current situation in the Croatian market?

The Croatian real estate market has been slowly recovering in recent years, and this can be especially seen in the supply and demand of office space in Zagreb. With the increased supply of modern office space, there is an increasing trend of moving companies in to modern and functional offices of higher quality that are outside the city centre. These are easily accessible,  in the absence of typical city centre traffic jams, and also provide parking for their customers.

What is your advantage over the Impact Hub, for example (and similar offices)?

Bee@work business centre has a pleasant but professional atmosphere and is primarily designed to offer private offices that can be for long-term, temporary or occasional use, while the DROP in work places are an additional convenience for occasional customers and customers who use virtual offices. We do not offer the possibility of mentoring as the HUBs do, but we offer administrative support, as well as finance and accounting services that users can get at the same location. In fact we have a sister company, which at the same location offers accounting, financial and controlling services, which is ideal for companies that are just starting off their business.