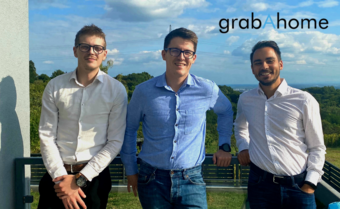 How many founders do you have? How old are you ? How long have you been represented in the market?

grabAhome has been on the market for two and a half years and has 3 founders.
Mario Mrkša, the initiator of the whole story, Vedran Presečan and Franko Sočan. All three of us are 25 years old and together we attended the Faculty of Economics and Management in the same student group.
How did you decide on the idea of ​​starting your own startup?

The idea came to Mario Mrkša when he went on an exchange to Madrid 5 years ago.
"When I was admitted, I had no idea how to find accommodation in another country whose language I do not know. Then I met with various agencies and platforms that were specialized for foreigners seeking accommodation on the so-called. medium term or in other words up to a year. At that time, some platforms had already existed for several years, but none of them had entered our region due to different laws and rental culture. I saw an opportunity there and decided to start something like this in Croatia with the aim of expanding to the rest of the region.
Describe to us how your platform works, in which cities are you currently represented?

grabAhome is an online platform (marketplace) for booking accommodation for 30+ days. The booking process itself works in a similar way as platforms for tourist accommodation rental (airbnb, booking.com), but our primary clients are not tourists but foreigners looking for a temporary home in Croatia. What makes us even different is that we create a base of offers for private rooms instead of the whole apartment, which allows students to live in good locations at much better prices, and landlords the opportunity to earn more.
We are represented in Zagreb, Zadar, Split and other coastal cities.
People are generally always more picky when choosing accommodation because they choose it for a period of a few months or longer. That is why we personally check the real estate, and do professional photos, video tours and 360 ° video to give the potential tenant the best impression of the apartment. We also offer a guarantee for every reservation, online contract signing and customer support that will answer every question from what are the costs in a particular city to where to travel for the weekend. In fact, our clients receive a "concierge" service and as such we are unique in the market.

Who are your clients?

Students are still the primary market, but we are also waiting to develop and adapt our product to digital nomads, who represent great potential in our market. We also had local students who found accommodation through us and their biggest benefit was verified landlords and the security of booking accommodation. Also, various working professionals often rent accommodation through us if they are coming from another country for the first time or for less than a year in Croatia.
How has the corona crisis affected the real estate world, in your opinion?

The COVID-19 pandemic has had a strong impact on financial markets and the economy around the world.
Current information tells us that no unusual events have yet been recorded in the extremes. The crisis will not reduce the demand for homes. For a very long time, the demand for living space has exceeded the meager supply of quality real estate in many places. Such a fundamental trend will not change significantly in the Covid situation either, as the reasons for excessive demand will still exist.
The high demand for housing in recent years is due to population growth and constant inflows in urban regions and medium-sized cities. This has led to a significant increase in property prices for sale and rent. Modern and new construction activities also could not meet the high demand. Demand for housing will not decrease even despite the corona crisis - because people will always need to have a roof over their heads.
The reason why the corona viral crisis does not seem to have had much of an impact on property prices at the moment is relatively simple: real estate is not losing its appeal to investors in those times. The home can still be considered a stable investment in times of crisis.
Given the specificity of the medium-term rental market, COVID has shown its impact on the large increase in demand for private rooms due to the subconscious lack of human contact, ie the community effect. There has also been a change in location preferences as demand for places outside the city center grows with the arrival of digital nomads and working professionals looking for local experience.
What are your plans for the future?

Our main focus is to expand the base of accommodation for medium-term rentals in Croatia and beyond. We are also working on a project for digital nomads outside the summer season, where we would present Croatia as a desirable destination outside the classic three months of the year, and also to better understand their needs as they represent a very specific segment in tourism.
How would you rate the Croatian startup community?

This year was a record year for investing in Croatian startups, and we also won and the first unicorn and the sale of a startup worth almost a billion kuna. These are all good signs that show that Croatia has ambitious and young people who want to do something with their hands from scratch and compete with global players. I think we are going in the right direction and we can give a high score given the size of the country itself, but of course there is always room for improvement.