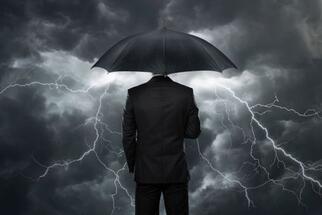 U istoj je kategoriju i situacija u kojoj, iako nisi nikome ništa dužan, iako nisu preuzeo nikakva jamstva niti dao bilo kakvo sredstvo osiguranja, odjednom dospiješ u situaciju plaćanja tuđeg duga samo zbog nečega što se dogodilo osobi s kojom si poslovao. Kako takve rizike umanjiti, jer otklonili ih sasvim opcija je koja praktično i ne postoji osim u bajkama? Pri tome ne mislimo na probleme povezane sa stečajem ili samo blokadom računa osobe s kojom se posluje jer to su nažalost postale poznate stvari za većinu poduzetnika koji pažljivo prate ne samo Narodne novine nego i oglasne ploče sudova.
Svatko tko se ponaša oprezno prigodom ulaženja u neki poslovni odnos provjerit će onoga na drugoj strani. No čak i ako ta provjera bude obavljena potpuno profesionalno, postoji jedno veliko 'ali'. Naime, to što netko danas ima dosta imovine može se promijeniti već sutra i jedino pravo učinkovito sredstvo osiguranja je upis hipoteke ili fiducije ili pak jamstvo banke ili drugoga jakog subjekta.
Osnovni problem je što su takva sredstva osiguranja praktično nemoguća kod poslova manje vrijednosti. No čak i kod poslova velike vrijednosti nema potpune sigurnosti jer cijene nekretnina osciliraju, a zadnjih godina i jako padaju, ali i zato što kada se glavnici doda zatezna kamata vrlo često (posebno ako isprave nisu solemnizirane pa se ne može odmah ići u ovrhu nego se najprije mora u parnicu) prodana nekretnina ne postigne iznos dugovanja.
Ni banke nisu... Jamstvo banke je do prije kratkog vremena tretirano kao 100 posto sigurno jamstvo, ali niz primjera kako u inozemstvu tako i kod nas u bitnom je relativiziralo to inače dosta skupo jamstvo. Do prije nekoliko godina u praksi se događalo jako mnogo slučajeva u kojima bi jedan suprug založio nekretninu i uzeo kredit da bi se nakon toga javio drugi i tražio (i dobivao) da se njegov dio bračne stečevine oslobodi zaloga. Zahvaljujući promijenjenoj praksi Ustavnog suda taj problem više ne postoji. Unatoč naprijed navedenim rizicima jasno je da bi svatko, posebno kod dugoročnih poslova veće vrijednosti, morao kombinirati sredstva osiguranja, pa makar i na štetu vlastite dobiti. Pravi problem u odnosu na koji, barem dok je takvo zakonsko rješenje sadržano u člancima 66-71. Zakona o obveznim odnosima, nema pravog rješenja slučaj je u kojemu se uđe u neki poslovni odnos, plati što je ugovoreno i stekne pravo vlasništva nad kupljenim. Ako taj prodavatelj zapadne u probleme i nema više imovine za namiru svojih obveza, njegovi vjerovnici u roku od jedne godine mogu pokrenuti sudski postupak (koji opet traje godinama, a za to vrijeme imovina tvtke praktično je blokirana) radi pobijanja tog posla (u našem primjeru kupoprodaje).
Tužitelju je dosta dokazati da njegov dužnik nema imovine, da je znao (što će biti rijetko) ili 'mogao znati' da nanosi štetu svojem vjerovniku, kao i da je kupac znao (što će biti rijetko) ili 'mogao znati' da se vjerovniku nanosi šteta. U toj zavrzlami kupac ni kriv ni dužan, jer nije morao znati za dugove prodavatelja, može ostati bez imovine koju je kupio ili tvrtke, i naravno novca koji je za to dao.
Tuđi dugovi Kada se svemu navedenom dodaju i posebna ograničenja iz Zakona o postupku oduzimanja imovinske koristi ostvarene kaznenim djelom i prekršajem, stvari postaju još složenije, ponekad i katastrofične. Naime, nije sporno da svakome tko počini neko kazneno djelo ili prekršaj i time stekne neku korist tu korist treba oduzeti i osobu kazniti. No kada se pročita čl. 3. Zakona, prema kojemu su povezane osobe sve one koje su pravni sljednik, a to su nasljednici kao i tzv. univerzalni sljednici i svatko tko je primjerice od počinitelja i sudionika u kaznenom djelu nešto kupio i platio kao singularni sljednik, stvari postaju jako ozbiljne za one poštene treće. To ne samo da nije u skladu s Ustavom nego i Zakonom o nasljeđivanju, prema kojemu nasljednik odgovara samo do visine naslijeđenog za dugove ostavitelja, a prema ovom Zakonu može ostati bez svoje imovine samo zato jer je ostavitelj tko zna kada nešto napravio, a nije iza sebe ostavio praktično ništa. 
Kada tome dodamo da su povezane osobe i druge fizičke ili pravne osobe za koje sud na način propisan ovim Zakonom utvrdi da su na nju prenesene stvari ili prava koja predstavljaju imovinsku korist i da glede stjecanja tih stvari ili prava nije u dobroj vjeri, onda se treba pitati čemu služi ona prethodna odredba o sljednicima i je li stvarno moguće da se tako ozbiljnoj stvari pristupilo toliko površno da se stvari ponavljaju i normiraju tako da ništa nije potpuno jasno, kao da je riječ o nevažnim stvarima.
Izvor: Lider