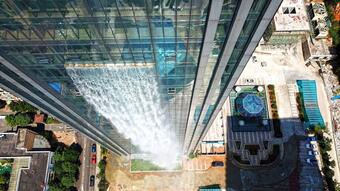 Nazvana Liebian International Building, zgrada se uzdiže 121 metar, dok se skoro od vrha dramatično slijeva jedan od najvećih umjetnih vodopada na svijetu. Ovo je ujedno i najviši vodopad koji je ugrađen u zgradu.




Kada je ovaj spektakularan vodopad bio prvi put uključen, izazvao je pravu pomutnju među lokalnim stanovništvom koji su u panici zvali vlasti i medije da prijave katastrofalno curenje vode.




Iako zgrada još nije u potpunosti dovršena, u protekle dvije godine vodopad je uključen šest puta.

Vlasnici navode da je jedan od razloga za to što će se vodopad puštati u rad samo u posebnim prilikama i visoka cijena korištenja vodopada – jedan sat napajanja pumpi koje se za to koriste košta 118 dolara.




Za njegovo pokretanje koriste se četiri ogromne pumpe koje podižu pročišćenu kišnicu i sivu vodu, sakupljenu u podrumskim rezervoarima, na visinu od 108 metara odakle započinje pad.

Cheng Xiamao, direktor Ludi Industry Group koja je investitor ovog projekta, otkrio je da će se u zgradi nalaziti uredi, trgovine i luksuzni hotel. Projektom je predviđen još jedan toranj iste visine, a u bazi koja povezuje zgrade nalazit će se shopping centar.