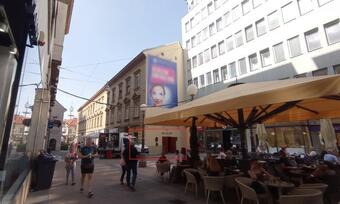 After previous tenders, where there was very good interest in the offered garages, state e state has also advertised three garages in this tender among Zagreb premises, and they are located in Svetice Street, Ujevićeva and Radauševa Streets. One of the spaces is the once-popular Zagreb cafe Charlie at Gajeva 4. The initial monthly net rent is EUR 1,132.86.
Premises in Karlovac are advertised at a starting price of EUR 88.93 and EUR 89.89 and are smaller in square footage, while the largest commercial premises advertised in this tender are in Rijeka of 158 m2 and Zagreb Pod Zidom of 156.62 m2. In Rijeka, five business spaces are offered, while in Osijek, potential tenants can view and submit an offer under this tender for two business spaces, one of which is located near the Osijek Fortress.
There are three business premises in Bjelovar, two of which are located on Ivana Gundulića Street. Lease offers must be submitted to the address: State e state d.o.o., Planinska 1, 10000 Zagreb, by noon on October 27, 2023. Premises are leased as seen and can be previewed between October 16 and 20, 2023, according to the published schedule in the Public Invitation 7/23.
Source: Tportal.hr