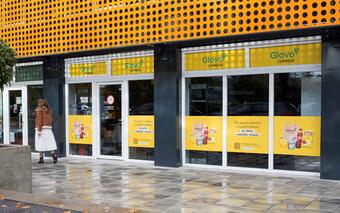 In Zagreb, on Radnička cesta, Bussines Park 1A, the Glovo Express store has started operating. The name alone says that this is a project of the Spanish Glove, one of the leading mobile and web delivery platforms, which in Croatia alone has about 800,000 people installed on their devices.
The Glovo store, ie Micro Fullfilment Center (MFC), offers the entire range that can otherwise be ordered and delivered to customers through the application, and serves to enable fast delivery of groceries and other items exclusively to them, according to Glova Hrvatska, emphasizing that it is undertaken for the expansion of Q-commerce in Croatia.
Here's how it works: users can order directly from the app and choose from 1,500 products such as vegetables, fruits, groceries, frozen products, soft drinks, sweets, dairy products, and products dedicated to child and animal care. Glovo Express works every day, from Monday to Sunday, from 8 am to midnight, but it is noted that users cannot physically enter it, but the goods are delivered from there based on the order from the application, just to make the service as fast as possible, not to mention express.
"The launch of Glovo Express on the Croatian market and the transition to a new, higher level of on-demand delivery is a key moment for us and a positive impact in the interest of our customers. We are happy to be able to expand the range of Glove services, all in order to make as many products from different categories available to as many users as possible in the shortest possible time. In this regard, users of the Glovo application can now spend the time they would normally spend shopping in a more comfortable way, "said Victor Răcariu, Glovo Regional General Manager for Southeast Europe. In addition to this, they announced another such store in Zagreb by the end of this year, followed by the expansion of the network next year. More than 100 Glovo Express centers will be in operation by the end of the year, in more than 50 cities in 16 countries in Europe and Africa where Glovo is available. It has existed in Croatia since the spring of 2019 and has since expanded to 26 cities.
This year, Glovo signed a strategic agreement with the Swiss real estate company Stoneweg, in which it undertook to invest 100 million euros in the construction and renovation of real estate in the capitals of key markets in which it operates. Connecting as many sales partners as possible to the Q-commerce model will accelerate the expansion of the infrastructure; warehouses and delivery space.
"Glovo is committed to strengthening its Q-commerce service to respond to changing consumer behavior and demands for ultra-fast delivery. We believe that MFCs represent the future of trade and that we will soon witness lasting changes in consumer habits towards instant or same-day delivery, "added Bojan Barišić, MFC Regional Area Manager for Bosnia and Herzegovina, Croatia, Montenegro and Serbia.
Source: Taken from the Poslovni.hr portal