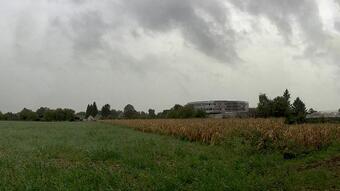 Našim političarima na svim razinama puna su usta poticanja, poduzetništva, inovativnih tvrtki i mjera kojima će se poticanjem zapošljavanja smanjiti trend iseljavanja mladih. To se osobito odnosi na područje Slavonije koja je prema demografskim pokazateljima rekorder po broju iseljenih stanovnika na broj doseljenih.
No mjere za poticanje poduzetništva i smanjenje iseljavanja samo su prazne priče - barem se tako čini iz posta objavljenog na stranicama Osijek Software City, projekta pokrenutog 2012. godine kojim osječke IT tvrtke djeluju prema lokalnoj zajednici.
Njima je naime 2015. obećan prostor za formiranje IT parka unutar kojeg bi tvrtke kupovale zemljišta i gradile vlastite objekte, dok bi manjim tvrtkama Grad omogućavao najam poslovnog prostora. Na taj način riješili bi problem nedostatne infrastrukture i omogućio njihov brži razvoj i kvalitetnija međusobna suradnja.
Odabrano je zemljište i još je 2016. najavljeno raspisivanje javnog natječaja za korisnika. No u međuvremenu se nije dogodilo ništa, a na zemljištu na kojem bi trebao biti IT park i dalje je kukuruzište.
Post udruge Osijek Software City pod naslovom Okretanje leđa prošlosti prenosimo u cijelosti:
Često kažu da je povijest učiteljica života, a da je onaj tko je ne poznaje osuđen da je ponavlja. Za uvod, evo crtice iz povijesti, da vidimo kakvi smo ponavljači.
Europska avenija je jedna od najljepših osječkih ulica i najveći secesijski niz u jugoistočnoj Europi. To je simbol nekad bogatog i razvijenog industrijskog grada, koji to nažalost već dugo nije.
Ono što nam je ovom prilikom zanimljivo je način na koji su Osječani u 19. stoljeću izgrađivali svoj grad. Izdvajamo samo primjer jedne od najvećih secesijskih zgrada u toj ulici, sudbene palače. Iako je danas poznatija po suđenjima sportskim menadžerima i herojima prošlog Svjetskog prvenstva, ona se "monumentalnošću i bogatom obradom pročelja ističe se kao jedna od najvrednijih profanih historicističkih građevina u gradu i šire".
Gradnja ovog "landmarka" s "ukusnom fasadom, predvrtom i pritvorom za arestiranje" odobrena je u siječnju 1896. godine od strane bana Khuen-Hedervarija, istog onog koje je u udžbenicima povijesti zabilježen kao jedan od većih negativaca toga vremena. U travnju iste godine kreću pregovori s Gradom i nakon silnih komplikacija s Ministarstvom obrane zbog blizine vojarne i višestrukih međusobnih darivanja i vraćanja zemljišta (zvuči poznato?), palača biva završena 1898. godine. Dvije godine od početka do kraja, od pronalaska zemljišta i projektiranja do izgradnje, u nedemokratskom okruženju koje je obilovalo činovnicima i birokracijom.
Fast-forward u 21. stoljeće. Udruga Osijek Software City u rujnu 2015., na sastanku u prostorijama Hrvatske udruge poslodavaca i u prisustvu gradonačelnika i rektora između ostaloga iznosi potrebu za formiranjem IT parka po uzoru na svjetska središta IT industrije. Unutar ovoga parka tvrtke bi kupovale zemljišta i gradile vlastite objekte, dok bi Grad omogućio manjim poduzetnicima najam poslovnog prostora.
Na taj bi se način riješili problemi s nedostatkom odgovarajuće poslovne infrastrukture za IT tvrtke i omogućio njihov brži razvoj i bolja međusobna suradnja, a grad bi se (osim prodajnog iznosa i komunalnih naknada) obogatio za nekoliko prepoznatljivih i modernih objekata. Sastanak je zaključen uz obećanje o svoj potrebnoj pomoći u realizaciji projekta.
U skladu s tim, predstavnici OSC-a u mjesecima koji slijede obavljaju razgovore s dogradonačelnicima i pročelnicima. U nedostatku odgovarajućeg gradskog prostora prepoznajemo lokaciju u Gackoj ulici kao idealnu zbog dostupnosti infrastrukture i blizine sveučilišnog kampusa. Zemljište od gotovo 25000 m2 kojeg bi Grad parcelizirao i prodavao zainteresiranim stranama, 5 tvrtki koje šalju pisma namjere, i dovoljno prostora za one koji se kasnije odluče.
Zašto udruga nije prioritet?
Realizacija se te 2016. činila nadohvat ruke, i sam je Grad na svojim stranicama objavio da je raspisivanje javnog natječaja za korisnike predviđeno u 3. kvartalu 2017. No tada se, po starom hrvatskom običaju, sve počinje usporavati.
Je li u pitanju nezainteresiranost, nerad, razjedinjenost, nesposobnost, političke igre i podmetanja na jednoj ili drugoj strani – nije ni bitno. Svi nude podršku i pomoć, tapšu nas po ramenima, razumiju korist od projekta i predstavljaju je u medijima kao gotovu stvar. U isto vrijeme "struka" ne može riješiti proceduralne i ine probleme. Je li to zato što OSC, kao potpuno apolitična udruga, nije ničija i stoga nije prioritet?
Pregovori o zamjeni s vlasnikom zemljišta, inače tvrtkom u većinskom državnom vlasništvu, traju mjesecima. Nadu nam daje odluka Vlade RH sa sjednice održane u prosincu prošle godine u Osijeku, kojom podupiru projekt i izgradnju Parka. Nažalost, ni to ne pomaže: procjene vrijednosti zemljišta se rade mjesecima i na kraju razlikuju za ogromne iznose, angažiraju se razna povjerenstva, prolaze mjeseci, sastanci i sjednice na kojima se ne događa ništa novo.
Po najnovijim informacijama, iako je sve spremno, i iako se "već" radi na pripremama, još nije potpisan niti ugovor o zamjeni zemljišta. Neslužbeno saznajemo da je zadani rok za objavu javnog natječaja za korisnike 31.12.2018., no nitko to ne želi javno reći. Da se usudimo osloniti na takve rokove, odavno bismo propali.
Na lokaciji i dalje raste kukuruz
I tako u širem središtu grada na planiranoj lokaciji IT parka i dalje raste kukuruz, a mediji su puni izvještaja s osječkog kolodvora o masovnom egzodusu. U isto vrijeme, u IT sektoru na području Osječko-baranjske županije u 5 godina od osnivanja OSC-a do 2017. godine svi su kriteriji rasta otprilike udvostručeni (napominjemo da naše istraživanje obuhvaća samo tvrtke sa sjedištem na našem području, stvarne su brojke znatno veće). Sve su ovo ostvarile prvenstveno lokalne tvrtke, no za daljnji rast trebaju podršku onih kojima je ta podrška i svrha postojanja.
Zbog nemogućnosti apliciranja na projekte EU za potpore u izgradnji, te po Zakonu o poticanju ulaganja i sličnim subvencijskim mehanizmima, financijska šteta koju trpe zainteresirane tvrtke se mjeri u milijunima kuna. EU projekata ovoga tipa više neće ni biti. Zamislimo koliko je to novih radnih mjesta i novih proizvoda.
Vratimo se povijesti. Khuen-Hedervari i njegovi činovnici su ovakve projekte rješavali za manje od dvije godine. Mi čekamo više od tri, a nismo još zapravo ni započeli. Čujemo da je "Osijek okrenuo leđa svojoj gospodarskoj prošlosti", i da se "od danas stvaraju novi temelji za razvoj". Ne stvaraju se ti temelji od danas, i nije od danas svijet počeo dolaziti u Osijek.
Želimo li ostati siromašna Slavonija?
Na području Osječko-baranjske županije danas djeluje 150 IT tvrtki i obrta, koje zapošljavaju preko 600 osoba. Oni su protekle godine ostvarili prihod od gotovo dvjesto milijuna kuna! Zbog toga je OSC ponosan na svoju ulogu u nedavnoj gospodarskoj prošlosti i na temelje razvoja koje je postavio bez ikakve institucionalne podrške. No to je bilo prije, treba nam svijetla gospodarska budućnost uz pomoć svih nadležnih institucija, a ona neće doći tempom koji je sporiji od onoga iz 19. stoljeća. Neće doći ni na krilima famoznih stranih investitora koje se najavljuje već četvrt stojeća, a koji i ako dođu ne mijenjaju ništa bitno.
Ovim putem odgovorne pitamo: trebaju li nam nova radna mjesta, prostori, veći prihodi od poreza i prireza, ili želimo ostati "siromašna" Slavonija nad kojom se drugi sažalijevaju i koju podcjenjuju? Ako već okrećemo leđa ružnoj strani gospodarske prošlosti, mogu li lokalne IT tvrtke konačno računati na efikasnu i ravnopravnu institucionalnu podršku, ili će i dalje biti prepuštene same sebi?
(izvor: 24sata)