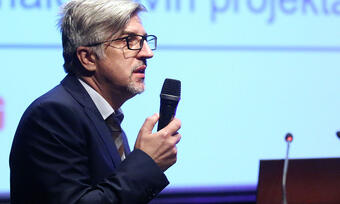 Besmisleno je pitanje hoće li se pokrenuti stanogradnja u Hrvatskoj, a samim tim i cijela građevinska industrija, jer je svima jasno da se ona mora pokrenuti, rekao je Robert Pokrovac, član Uprave Erste nekretnina, na regionalnoj konferenciji New Link koju je u Zagrebu organizrao portal Njuškalo pod medijskim pokroviteljstvom Večernjeg lista, 24 sata i Poslovnog dnevnika.
"Najveći je problem hrvatske stanogradnje što je neprirodno rasla, a nije se razvijala. Ona će se pokrenuti, no pitanje je samo hoće li se i dalje držati starih principa, koji su i doveli do pada, ili će primijeniti nove modele", istaknuo je Pokrovac. Objasnio je kako je problem što je većina stambenih projekata bila loše i brzopleto planirana. "Ne možete napraviti plan da ćete nešto graditi u nekoliko mjeseci, a onda to brzo sagraditi i godinama pokušavati prodati. Već u samo planiranje treba uključiti cijelu struku, od lokalnih vlasti, arhitekata, urabnista, agencija za nekretnine do banaka. Bez toga nam se događa da se sagrade neadekvatni stanovi na neadekvatnoj lokaciji s nerealno planiranom cijenom koje nitko ne želi kupiti jer nema izolacije, ceste, autobusa, vrtića, škole...
Živković Matijević
Na veću potražnju za stanovima utječu 4 faktora, među kojima je i demografija, s kojima ne stojimo najbolje.
Nekretnine su već jako diversificirane na one elitne i poželjne, kojima cijene i nisu padale, te one 'prosječne', kakvih je većina i koje su bile precijenjene", rekao je Ersteov stručnjak. Kao primjer je naveo dva projekta sa "stanovima koji se ne mogu prodati" u Zagrebu i Dubrovniku, koje su oni preuzeli nakon sloma investitora, gdje su cijene bile i više od 40% veće od realnih, te ih ubrzo prodali na tržištu. Zrinka Živković Matijević, direktorica ekonomskih istraživanja u RBA banci, upozorila je na to da na veću potražnju za stanovima i rast cijene utječu četiri faktora s kojima Hrvatska ne stoji najbolje.
"Tu je prije svega pitanje demografije, tko će te nove stanove kupovati. Posljednjih 20-ak godina bilježimo stalni pad nataliteta, a posljednjih godina i značajnu emigraciju. Procjene govore da će nas 2030. biti manje od četiri milijuna. Usto, nepovoljne dobne strukture jer ćemo imati 200.000 više starijih od 65 godina i 400.000 manje mladih, radno sposobnih", istaknula je Živković Matijević.
Na cijenu stanova, dodala je, utječu gospodarska situacija i njezine perspektive, što također u Hrvatskoj nije blistavo. Poticaj za kapitalne životne investicije nije ni pravna nesigurnost jer država stalno mijenja porezne i normativne uvjete. Stoga su u RBA napravili tri scenarije kretanja cijene stanova u idućih 10-ak godina, od kojih je najrealnija ona pesimistična: i dalje se očekuju stagnacija i ukupan pad cijene i za 10-ak posto. Svoja iskustva s tržištem nekretnina prenijeli su i Hendik Belde, predsjednik udruge FIABCI iz Belgije, te Jose Maria Pons iz AXIOMA-e.
Izvor: poslovni.hr