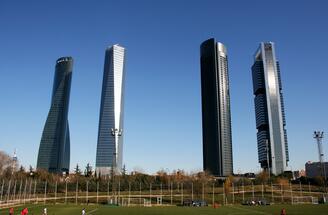 After Austria, Croatia, Hungary, Romania and Serbia, the portal has now opened to the Spanish office market, presenting offices to let on www.oficinainfo.es.
It offers a comprehensive overview of the Spanish office market and its activity. It provides detailed information about office buildings in general and specifically on those to let. This includes contact details, enabling local companies to learn about the options available to them speedily and simply. The added benefit of oficinainfo.es is that no commission is charged on lease transactions, and it is available free of charge to anyone seeking office space.
The principal aim of the portal is to bring office buildings and potential tenants together. Oficinainfo.es provides a means to and end, when ensuring readily traceable communication with potential tenants and their representatives.
Users of the portal can narrow down their search by setting various criteria. These include class (A, B or C), category (green building, instant office, apartment office, office building for sale etc), location, size and rent. To cut down on the time spent searching, it offers several additional services, such as a rent calculator, a comparison of office buildings, the most popular office buildings and a facility for group inquiries.
Oficinainfo.es has an English version, www.officerentinfo.es, which also provides the Spanish content for www.officerentinfo.com, which captures all the data from the entire portal network. For those interested in green buildings, www.greenbuildinginfo.eu-n covers the green office markets of 28 countries.
Oficina.es provides a specialist service in Spain offering new opportunities and information flows for both Spanish and international market participants. It has never been simpler for Spanish office buildings and potential tenants and their representatives to find each other, or for buildings to be offered internationally. The service is also supported by an app for iPhones and Android phones.
Europe's Independent Office Search Portal Network
Europe's only international office search & communication portal network, independent of agencies and developers, with an app for iPhones and Android phones. Countries covered: Austria, Croatia, Hungary, Romania, Serbia, Spain
Source: www.officerentinfo.es