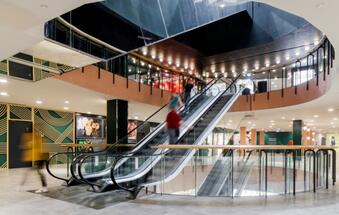 The newly renovated complex covers 40,000 square meters. The center now combines a rich premium offer with a special emphasis on shopping and lifestyle with top restaurants, bars, fashion brands and perfumeries, cinema, fitness center and other attractive facilities. Everything is thematically divided into floors, and the new Kaptol Center now responds to the everyday needs of the people of Zagreb in an even more relaxed atmosphere - from the usual tasks such as purchasing daily groceries, to socializing, enjoying and going out.
"By renovating and modernizing the center, culturally, socially and stylistically inspired by Zagreb's rich past, we wanted to create a unique place that will offer visitors a break during the day, knowing that they can do everything in one place. We wanted to move away from the exclusive role of a shopping center and put emphasis on the lifestyle and gastro segment with a selected offer of content in a pleasant, green environment, "said Markus Pinggera, CEO of Supernova Group.
With a rich sales offer, this luxury shopping center is further enhanced by striking green areas. The multifunctional space, which also combines a residential building and business premises, provides visitors with a large garage space. The center currently has 34 stores of world famous brands on 14,000 square meters of retail space - Alfa vision optics, Andrews baby company, Barbieri's restaurant, Barbieri's coffee bar, Barbour, Beer bar, Magnolia, Premium Cigars, Bio & Bio, Bonkulović delicacies, brigade *, The Core, dm drogerie markt, Douglas perfumery, Et Cetera, Frida bar & bistro, Gant, Journal, Kaptol Boutique cinema & Bar, Khala restaurant & bar, Konzum, Maras, Max & Co., Nebo, Orlandofit fitness, Palmers, Poliklinika Milojević, Polo Ralph Lauren, PrimaPharme Pharmacy, Puntino, Seventy, StarFitness, Media World and Zoo City, and Sport Vision Kaptol and Ghetaldus will open by the fall. By the end of the year, the Kaptol Center will become richer by ten more new brands!
The new concept of the Kaptol Center, a favorite meeting place for metropolitan residents, is signed by the Zagreb agencies SEÑOR and Brigada, which found inspiration for the design in old Zagreb.
Kaptol Shopping Center is owned by the Supernova Group, which has taken over the leading position in the number of shopping centers in the last five years by taking over existing and building new shopping centers in Croatia and Slovenia. Apart from Croatia and Slovenia, the company is active in the markets of Austria, Germany, Slovakia and Romania, and the company's current portfolio includes 73 properties and a gross asset value of more than 1.6 billion euros.
The Supernova Group in Croatia operates in nine cities on 15 currently active projects, and has so far invested more than 420 million euros in Croatia through various investment projects. In Croatia, the Group manages shopping centers under the Supernova brand and Cvjetni, Kaptol Center and Branimir mingle mall.
Source: seebiz