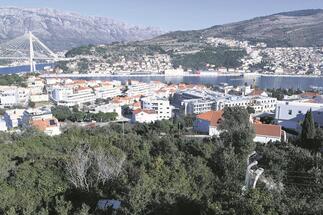 The growth of asking real estate prices for sale in the largest Croatian cities began to slow down last year, but despite the negative circumstances that 2020 brought to the entire economy, most of them still have higher prices than last year. In general, according to a new Njuškalo analysis, the asking real estate prices in Croatia in October were as much as 6.62 percent higher than in October last year.
That the real estate market in Zagreb is still stable is shown by the results of the analysis of the movement of asking prices from the beginning of the year to October. With an almost imperceptible drop in prices after the earthquake in March, they return to the "upward trajectory" in October, so the average asking price per square meter of an apartment in Zagreb was 2147 euros, while in January it was 2101 euros. When it comes to the sale of houses in Zagreb, they also record the same trend in asking prices. At the beginning of the year, an average of 1,323 euros was demanded for a square meter of a house, while last month that amount was 1,357 euros, or 34 euros more.
In Split during the year was a slightly different picture, which is expected for a city that records some of the most expensive squares in Croatia, and largely depends on tourism, but also the only large city in which the squares of houses significantly exceed the squares of apartments.
The highest asking prices for houses and apartments in Split were recorded in February, when the average asking price per square meter of a house was as much as 3182 euros, and an apartment 3016 euros. Then there was a drop in asking house prices in April, during the strictest measures related to covid-19, and in May prices "jumped" again, but continued to fall slightly during the summer. Thus, the lowest average price per square meter of a house in Split was recorded in September, when it amounted to 3,038 euros, but already in October it rose to 3,120 euros.
Apartments in Split also had the highest asking price in February, when an average of 3,016 euros was demanded for one square meter, while the lowest asking prices were recorded in June and averaged 2,960 euros. Unlike houses for sale, they continued to record a slight increase in the summer and autumn months, and last month the average asking price per square meter of an apartment in Split was 2,996 euros.
The city with the most expensive squares - Dubrovnik, in 2020 recorded a negative trend. While in January an average of 4,433 euros was demanded for a square meter of a house, in October that amount was 4,090 euros, or even 7.7 percent lower. Compared to the beginning of the year, apartments in Dubrovnik also recorded lower asking prices, with an average square footage of 3,792 euros in January and 3,677 euros in October, or 3 percent less.
In 2020, the City of Rijeka recorded the largest increase in asking real estate prices, which have been rising slightly since January. In January, the average asking price per square meter of an apartment was 1,686 euros, while in October it was 1,773 euros, or about 5.2 percent more. The houses, on the other hand, recorded the highest asking price per square meter in April, when it amounted to 1,470 euros.
Like Zagreb and Rijeka, Osijek in October recorded slightly higher asking prices of apartments than at the beginning of the year. Thus, in October, the average asking price per square meter of an apartment in Osijek was 1,056 euros, while in January it was 1,028 euros, or 28 euros lower. Houses recorded an almost imperceptible drop in prices, from an average demand of 726 euros per square meter to 714 euros.
Source: večernji.hr