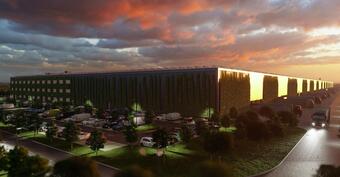 RC Europe is one step closer to building its distribution and logistics center in Croatia, after the new Urban Development plan was adopted at a session of the City Council of Samobor held in late December 2021. The plan was a prerequisite for the development of a new economic zone Bobovica. The adoption of the Urban Development plan gives RC Europe direct support from the city of Samobor and enables the company to start preparing documentation for the construction of a distribution and logistics center called "RC Zone Samobor" which is an ambitious project offering 83,000 sqm of warehouse space with a net height of 12 m, suitable for logistics and production activities.
The building, which is designed to meet the latest construction and ecological standards, will be situated in an excellent location, which combines the accessibility of major European metropolises, close access to Slovenia and exit for Samobor on the A3 motorway. The estimated value of the project is approximately 75 000 000 €.
They are grateful to the city of Samobor for its support in the realization of this investment. We believe that it will contribute to the development of this area and increase the standard of citizens of Samobor and the surrounding area by creating new jobs and attracting partner companies. Our company has been operating successfully in many countries of Southeast Europe for more than 16 years, so we expect that we will achieve significant success in Croatia as well, especially because this is a project unique to this part of Europe that connects Croatia with the wider EU market.
The current capacity of the warehouse envisages approximately 140,000 pallet places for pallets that will be placed on 60m long shelves. Also, administrative spaces are planned at the eastern and western ends of the building. They were designed based on tenants' needs and will contain administrative areas, changing rooms, living spaces for co-workers and technical rooms. The storage hall will be used for the storage of food and non-food products as well as their distribution to different destinations depending on the customers' needs. The latest predictions show the project will create up to 800 new jobs for warehouse workers.
Completion of the construction is scheduled for 2023/2024.
Source: RC Europe blog post on Linkedln