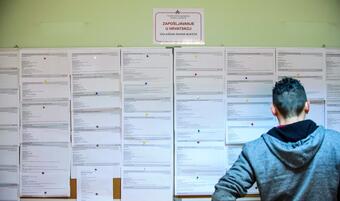 Po podacima DZS-a, krajem kolovoza u Hrvatskoj je bilo 1.444.537 zaposlenih, što je za 4.582 osobe ili 0,3 posto manje nego krajem srpnja.
To je prvi pad broja zaposlenih na mjesečnoj razini još od veljače, a povezan je sa sezonalnošću hrvatskog tržišta rada, s obzirom na to da uoči i za vrijeme ljetne turističke sezone zaposlenost na mjesečnoj razini raste, a nakon te sezone pada.
Statistički podaci pokazuju da su krajem kolovoza u pravnim osobama bile zaposlene 1.215.964 osobe, što je za 4.582 osobe ili za 0,3 posto manje nego krajem srpnja.
Prema djelatnostima, najviše je u kolovozu u odnosu na srpanj smanjen broj zaposlenih u obrazovanju, za 5,2 posto, na 105.161 osobu, a slijedi građevinarstvo s padom za 4,4 posto, na 73.367 radnika.
Nasuprot tomu, najviše je na mjesečnoj razini porastao broj zaposlenih u pravnim osobama u djelatnosti prijevoza i skladištenja, za 4,9 posto, na 68.404 osobe, a slijedi djelatnost pružanja smještaja te pripreme i usluživanja hrane s porastom za 2,9 posto, na 85.592 zaposlenih.
Po podacima koje DZS preuzima iz evidencije aktivnih osiguranika Hrvatskog zavoda za mirovinsko osiguranje, u obrtu i slobodnim profesijama krajem osmog mjeseca ove godine bilo je 209.071 zaposleni, što je za 1.357 osoba ili 0,6 posto manje nego krajem sedmog mjeseca.
Blago je, pak, za 0,1 posto, porastao broj zaposlenih osiguranih poljoprivrednika, kojih je krajem kolovoza bilo 19.502, što je za 22 osobe više nego krajem srpnja.
Po podacima koje DZS preuzima od Hrvatskog zavoda za zapošljavanje, krajem kolovoza u evidenciji zavoda je bilo 134.111 nezaposlenih, što je za 2.093 osobe manje nego mjesec ranije.
Tako je sedmi mjesec zaredom nastavljen i pad stope registrirane nezaposlenosti na novu rekordno nisku razinu - s 8,6 posto u srpnju na 8,5 posto u kolovozu.