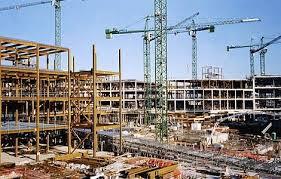 Kao i u prethodnim mjesecima, pad su predvodili radovi na ostalim građevinama (-7,8%), dok je smanjenje aktivnosti na zgradama bilo znatno niže (-1,4%).
Stoga, je 2014. godina bila još jedna u nizu izuzetno teških godina za građevinsku djelatnost u kojoj izostanak gospodarskog rasta i izuzetno niska razina investicijske aktivnosti nisu osiguravali dovoljno posla za ionako predimenzionirane građevinske kapacitete.
Fizički obujam građevinskih radova kontinuirano bilježi pad u posljednjih šest godina, s time da je u 2014. godini ostvaren visok pad od 6,6%. To je čak i izraženiji pad nego u 2013. godini kada je građevinska aktivnost smanjena za 4,1%. Odnosno, intenzitet pada je na razini onog koji je bio zabilježen u prvoj godini recesije (2009.) pri čemu treba uzeti u obzir da se on sada odvija pri već izrazito niskim razinama aktivnosti.
Pad obujma građevinskih radova u prošloj je godini primarno bio uzrokovan visokim smanjenjem aktivnosti na ostalim građevinama (-10,2%) što je najvećim dijelom rezultat smanjene investicijske aktivnosti javnog sektora koji je probleme s uravnoteženjem prihoda i rashoda u znatnoj mjeri rješavao rezanjem sredstava namijenjenih za investicijska ulaganja.
Odnosno, nakon forsiranja investicijske aktivnosti javnog sektora u 2013. godini s nadom da će to inicirati i rast privatnih investicija, zastoj u infrastrukturnim investicijama u prošloj godini preusmjerio je fokus građevinske aktivnosti prema radovima na zgradama.
Tako je u 2014. godini indeks obujma građevinskih radova na zgradama smanjen za relativno niskih 1,5% (nakon pada za 12,6% u 2013. g.) pri čemu je u kolovozu i studenome prošle godine zabilježen čak i povremeni međugodišnji rast aktivnosti nakon 64 mjeseca kontinuiranog pada. Rezultat je djelovanja dugogodišnje krize u građevinarstvu 42,7% niži obujam građevinskih radova u 2014. godini u odnosu na 2008. pri čemu su radovi na zgradama 49,3% niži, dok su radovi na ostalim građevinama smanjeni za 36,2%.
Nasuprot Hrvatske, Europsku je uniju prošle godine obilježio oporavak građevinske aktivnosti koja je porasla za 3,0% uz rast aktivnosti na zgradama od 3,7%, kao i aktivnosti na ostalim građevinama od 0,8%. Prema za sada raspoloživim podacima (nedostaju podaci za Irsku, Grčku, Cipar i Finsku) od nas je izraženiji pad zabilježen u Portugalu (-9,0%), Italiji (-7,0%) i Rumunjskoj (-6,7%) pri čemu kontinuitet pada u posljednjih šest godina uz Hrvatsku bilježe još Portugal, Italija, Slovačka, Francuska te vjerojatno Cipar.
S druge strane, po rastu građevinske aktivnosti prošle su godine prednjačile Slovenija (19,4%), Španjolska (17,4%), Litva (16,8%) i Mađarska (14,3%).
Pred građevinarima je vjerojatno još jedna teška godina s obzirom na stagnantan gospodarski rast i izostanak oporavka investicijske aktivnosti u Hrvatskoj. Pri nedostatku vlastitih sredstava i provedbi fiskalne štednje u javnom sektoru mogućnosti poboljšanja situacije naziru se kroz prilagodbu drugačijim okolnostima vezanim uz europske izvore financiranja, a prvenstveno uz sudjelovanje u europskom investicijskom programu, projektima sufinanciranim iz europskih fondova te posebno u programima energetske učinkovitosti i obnove zgrada. Međutim, radi se o projektima koji bi vidljivije građevinske efekte mogli proizvesti tek u drugom dijelu godine.
Komentar direktora Sektora za financijske institucije, poslovne informacije i ekonomske analize HGK Zvonimira Savića: "Iako je na razini EU u 2014. godini zabilježen oporavak građevinske aktivnosti od 3%, u Hrvatskoj je prošla godina bila već šesta za redom u kojoj je ostvaren njezin pad i to za visokih 6,6%. To predstavlja nastavak negativnog trenda započetog još 2009. godine, od kada je obujam građevinskih radova u Hrvatskoj pao za 42,7%. S obzirom na stagnaciju gospodarske aktivnosti i izostanak oporavka investicijske aktivnosti, pred građevinarima u Hrvatskoj vjerojatno je još jedna teška godina."
Izvor: Poslovni Puls