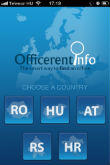 The application is dynamic and transparent: users can select an office market and a language on the start page, then view the latest news, lease transactions and offices to let in the market of the country of their choice, retrieving the required information simply and speedily.

The office search engine of the application enables users to narrow down down their search by location, category, leasable area and rent. The resulting office building is shown complete with a detailed data sheet, photos and an online request for a quote, providing sound support to office building owners and their representatives.


The latest version of the application can be downloaded from:
Apple Store

Android:
Google Play


Further information:

[email protected]


About uredinfo.com.hr

Uredinfo.com.hr is the Croatian platform of Europe's only international Office Portal for Communication and Leasing independent of agencies and developers, with an application for iPhones and Android phones. Countries covered: Austria, Croatia, Hungary, Romania and Serbia.