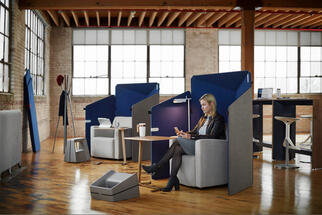 Jutro je, još se izležavate u krevetu, a već rukom posežete za mobitelom i žmirkajući prelijećete nepročitane mailove… Imate ih već na desetke, a još nije ni osam sati. Dobro, pomislite, stići ću sve. U autu ću odgovoriti na nekoliko njih, a kasnije ću dovršiti, kad stignem, između nekoliko sastanaka.
Ubrzo evo vas pred firmom, sjedate na brzu kavu s kolegom u kafiću da biste se dogovorili oko današnjeg rasporeda i važnog sastanka koji imate nakon ručka. Prije nego što izgovorite narudžbu, upitate konobara – koja vam je šifra za WiFi, a kroz glavu vam prođe – sva sreća, danas je sve online, pa zajedno s kolegom možete i u kafiću dovršiti važnu prezentaciju.
Pomalo neudobna stolica podsjeća vas na to koliko se način rada promijenio…
Zvuči poznato?
Vjerujemo da se svatko od vas barem jednom našao u ovoj situaciji.
– Činjenica je da se način rada promijenio iz temelja i danas se odvija posvuda – u kafiću, krevetu, automobilu, predvorju hotela… – goruća tema posljednjih godina – kako bi trebao izgledati suvremeni poslovni prostor koji ispunjava sve potrebe svojih zaposlenika.
Tvrtka Delight je svoju reputaciju izgradila svjesna tih tektonskih promjena. U svojem CV-u imaju više od 700 klijenata kojima su pomogli uskladiti naizgled kontradiktorno.
– Od globalnih korporacija, do malih domaćih startupova, ljudi danas od ureda očekuju nešto sasvim drugo nego prije recimo desetak godina. Očekuju dobru i poticajnu atmosferu i bijeg od privatnih problema. Očekuju i 'vibru' kafića u kojoj se tako dobro osjećaju, ali i udobnost vlastitog doma u kojem najradije borave.
Sve to uklopljeno u poslovni kontekst, u okruženje u kojem je tehnologija sveprisutna, tek tada postaje – najbolje mjesto za rad. Čak i bolje od kafića jer pruža više privatnosti, ali i bolje od doma jer prisutnost kolega je nezamjenjiva – ovakvo shvaćanje ureda u kojemu provodimo najveći dio vremena zahtijeva cjelovit pristup.
Delight zato pažljivo odabire partnere koji su redom vodeće svjetske tvrtke u svom području: Steelcase, Interface, Deko, Fornasarig… čijim proizvodima već godinama u Hrvatskoj oprema urede kompanija kao što su Samsung, Oracle, Uniqa, Hewlett Packard, Končar, Toshiba…
– Pažljivim planiranjem prostora klijenata postiže se to da njihovi uredi postanu upravo takva mjesta. Arhitektura, staklene i pregradne stijene, podne obloge, uredski namještaj i tehnologija; elementi su to slagalice koju Delightov tim uvijek iznova složi, uzimajući u obzir potrebe ljudi koji prostor koriste – što često nije lako jer klijenti imaju ograničene budžete, ograničen broj kvadrata, žele izbaciti ili bolje iskoristiti hodnike, kao i svaku nišu.
– Omjer 'uloženo-dobiveno' sveprisutna je mantra. Rješenje koje Delight uvijek preporučuje jest: omogućite zaposlenicima da sami odaberu mjesto i način na koji će odraditi ono što danas moraju.
Ako bi uz kavu, onda uz kavu. Kreativnost i motivacija su najvažniji, i ako su te dvije stvari na razini, uspjeh neće izostati.
I svakako uključite zaposlenike u proces planiranja jer će vam se to vratiti ondje gdje najviše trebate: na rezultatu, na kraju godine. U uredu koji sada ima vibru kafića i udobnost doma – zaključuju u Delightu.
JESTE LI ZNALI?
70% novih ideja stvaramo surađujući s kolegama – a ne individualno!
• Rad u malim grupama (2-5 ljudi) puno je efikasniji nego u velikima
• Kada vas netko prekine, potrebno vam je 15 minuta da se ponovo koncentrirate
• Ured valja planirati tako da potiče kretanje i promjenu položaja – stručnjaci preporučuju 10.000 koraka dnevno.