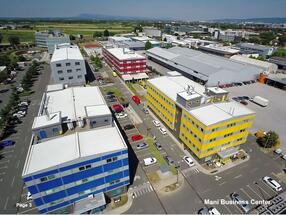 Pan-europski investitor i upravitelj imovinom M7 Real Estate (M7), nakon što je kod Erste banke refinancirao dug od 4,8 mil. eura za Poslovni centar Mani u Zagrebu, zahvaljujući rezultatima strategije upravljanja centrom, najavljuje nove akvizicije. U očekivanom partnerstvu s istom bankom, kako se čini priprema teren za širenje na nekretninskom tržištu u Hrvatskoj, kako u smislu novih investicija, tako i u svim sferama poslovanja s nekretninama, s ciljem razvoja tržišta komercijalnih nekretnina.
Direktorica M7 nekretnina u Hrvatskoj Mirta Ceranac Poljak pojašnjava da su iskustva u realizaciji i prenošenju M7 globalne misije na ovdašnje tržište zasad pozitivna, kao i očekivanja te planovi.
Vlastiti kapital
"Vjerujemo da ćemo u 2019. i dalje u RH povećavati prisutnost kroz nove akvizicije i u svim ostalim segmentima usluga koje etabliramo s idejom razvoja tržišta, povećanja likvidnosti i sveopće aktivnosti", kaže Ceranac Poljak.
Poslovni centar Mani u Buzinu kupljen je u prosincu 2016. putem jednog od njihovih nekretninskih fondova CEREF, koji je prikupio oko 100 mil. eura kapitala od privatnih i institucionalnih ulagača za ulaganja u nekretnine u CEE.
Jedna je to od niza nekretnina kupljenih sredstvima fonda (ostale su u Mađarskoj, Slovačkoj i Češkoj).
U protekle dvije godine uspješno su repozicionirali centar, popunjenost Manija porasla je s 54% na 91%. Osim toga, prosječno trajanje zakupa produženo je s 1,4 na 3,4 godine, trenutna godišnja zakupnina iznosi oko 980.000 eura što osigurava 20% prinosa na dug, pa je dio vlastitog kapitala refinanciran kreditom Erste banke. Iako službene potvrde o tome nema, krenula su nagađanja da postoje zainteresirani za kupnju centra. Što se tržišta tiče, naša sugovornica ističe da se primjećuje veća potražnja za uredima uglavnom manje kvadrature, što je rezultat pojačane gospodarske aktivnosti. Međutim, to ne znači nužno i povećanje cijena zakupa, kaže, s obzirom na to da je iznos zakupa vezan na samo poslovanje zakupca i njegovu mogućnost plaćanja.
"U tom kontekstu ne vidimo puno prostora za povrat cijena zakupa na razine koje su se postizale u razdoblju prije krize. Ipak, naši rezultati na poslovnom centru Mani upućuju na važnost još jednog čimbenika pored same činjenice da je došlo do povećanja potražnje za uredskim prostorom. Naime, kvalitetno i fokusirano upravljanje nekretninom jednako je važno za rezultat kao i utjecaji s tržišta. Bez svakodnevne brige o nekretnini, ali posebno o njezinim zakupcima što je bit upravljanja imovinom, nije moguće očekivati niti postići željene rezultate", kaže.
Osnovni postulat
M7 upravlja nekretninama ukupne vrijednosti 7,7 milijardi eura u 13 europskih zemalja. Tvrde da svoj rast i snagu temelji na osnovnom postulatu ulaganja u nekretnine kao investicijskog proizvoda koji glasi: Prazna nekretnina i ona koja ne generira prihod predstavlja trošak za vlasnika, a time je i njezina vrijednost upitna.