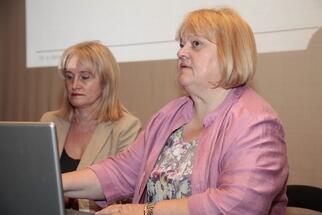 Kada je rađen zakon koji je danas još uvijek na snazi, u Hrvatskoj su bile sasvim drugačije prilike nego danas. Tada su se još uvijek gradile autoceste, gradio se veliki broj stambenih zgrada i to nas je dovelo do situacije koja kod nas nije neuobičajena, a to je da smo u nekim područjima bili restriktivniji nego je to potrebno - kazala je Mrak Taritaš, dodavši kako je građevinski sektor specifičan jer prvi ulazi u recesiju, ali i prvi izlazi iz nje.
Ministrica je pojasnila kako će se sve ono što propisuje naša regulativa morati ispunjavati i na tržištima ostalih zemalja članica EU i obrnuto.
- Moramo paziti da ne budemo regulativom maćeha našim ljudima. Ne smijemo biti strogi prema svojima, a liberalni prema strancima - istaknula je ministrica, dodavši kako je čula za brojne slučajeve otvaranja firmi u Sloveniji jer su tamo jednostavniji uvjeti i da to treba mijenjati.
Pomoćnica ministrice Borka Bobovec održala je izlaganje vezano za izradu nacrta Zakona.
- Promjena zakona potrebna je iz više razloga, prvenstveno zbog izmjena u priznavanju stručnih kvalifikacija koje smo preuzeli u sklopu pravne stečevine EU, a ne treba zanemariti ni recesijske promjene na tržištu i činjenicu da sadašnja rješenja sadržana u Zakonu o arhitektonskim i inženjerskim poslovima i djelatnostima u prostornom uređenju i gradnji, nisu odgovarajuća za sve koji rade u branši - izjavila je Bobovec, dodavši kako će nova regulativa riješiti i pitanje izdavanja potvrda hrvatskim građanima koje žele pružati usluge u drugim državama članicama Europskog gospodarskog prostora (EU, Island, Lihtenštajn i Norveška), a imat će i utjecaj na poslovanje u graditeljstvu.
Uskladit će se propisi kojima se uređuje hrvatski kvalifikacijski okvir te ubrzati postupci priznavanja stručnih kvalifikacija. Iz Ministarstva graditeljstva poručuju da će donošenje modernijeg zakonskog okvira doprinijeti sigurnosti građevina, uređivanju područja prethodnih ispitivanja i daljnjem razvoju stručnih poslova pojedinaca u prostornom uređenju i gradnji.
Pozvali su svu zainteresiranu i stručnu javnost da se aktivno uključi u izradu zakonskog rješenja već u ovoj ranoj fazi, naglasivši kako je svima cilj da zakon na kvalitetan način riješi pitanja koja utječu na uspješno poslovanje u građevinarstvu.
Izvor: liderpress.hr - Miro Soldić