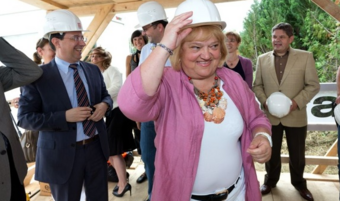 Da legalizacija odlično napreduje ocijenila je danas ministrica graditeljstva i prostornog uređenja Anka Mrak Taritaš i navela da trenutno ima gotovo 150.000 pravomoćnih predmeta.
U izjavi novinarima na gradilištu POS-a u Zapruđu gdje je položila kamen temeljac za gradnju više od 500 POS-ovih stanova, ministrica Mrak Taritaš rekla je da Hrvatska na dnevnoj bazi izdaje 1000 rješenja o legalizaciji.
"Svaku večer pogledam tablicu da vidim kakvo je stanje", rekla je ministrica i precizirala da je sinoć tako bilo 149.815 pravomoćnih rješenja te dodala da to znači da tu nije bilo nikakve žalbe i da su građani potrebne dokumente za legalizaciju platili odjedanput ili su se odlučili plaćati u ratama. Napomenula je da je trenutno i oko 50.000 rješenja koja su napisana i samo se čeka povratnica da se vidi da ga je netko uzeo i da se "lupi pravomoćnost", što znači da je 200.000 predmeta riješeno na razini Hrvatske.
Mrak Taritaš smatra da je realna ukupna brojka 500-600 tisuća zahtjeva, dok su ostalo bili ili dupli zahtjevi ili strah ili nešto treće.
Na pitanje novinara koliki su dosad prihodi od legalizacije, rekla je da je za 150.000 zahtjeva uprihodovano oko 500 milijuna kuna, što ide pola državi, a pola općinama i gradovima.
"Neke općine i gradovi dobili su dva-tri milijuna kuna koje moraju utrošiti isključivo u komunalno opremanje. Legalizacija je pokretač građevinskog sektora, malih poduzetnika i općina", ustvrdila je Mrak Taritaš i dodala kako neke općine imaju već pristojne svote od legalizacije na svojim računima, ali i napomenula da će u jednom času krenuti u kontrolu kako bi se vidjelo troše li te novce doista u određenu svrhu.
"Do mene je došao podatak da ih malo krivo koriste pa ćemo tu morati poslati nadzor", napomenula je.
Pohvalila je rad niza ureda u Hrvatskoj koji su se dobro organizirali te rekla kako se već sada zna da će neki gradovi sa svim svojim predmetima biti gotovi do polovice 2015., a onima kojima ide slabije, tu je državna Agencija za ozakonjenje nezakonito izgrađenih zgrada da bi to amortizirala kako bi cijela Hrvatska bila regulirana i riješena.
Ministrica Mrak Taritaš navela je kako je jedan od razloga bespravne gradnje bio i sporo izdavanje dozvola, no pokazali smo, kaže, da uredi mogu raditi brže i dodaje da to ujedno znači i stalnu konntrolu.
U Zagrebu je dosad 30.000 pravomoćnih rješenja, što je puno bolje od oko 5.000 koliko ih je bilo oko Božića i Nove godine, a ukupno će biti potrebno riješiti 90.000 zahtjeva, rekla je.
Naglasila je da je u Hrvatskoj dosad 18 posto zahtjeva pravomoćnih, no da su neki gradovi i općine i dalje na pet ili šest posto, a da Sisačko-moslavačka županija i Grad Sisak svoju legalizaciju uopće ne rješavaju pa će Agencija preuzeti još 30.000 dodatnih predmeta.
Ministrica graditeljstva i prostornog uređenja procijenila je da će Agencija imati svoj smisao do sredine 2015., a da će potom ostati na svega desetak ljudi.
Izvor: poslovni.hr