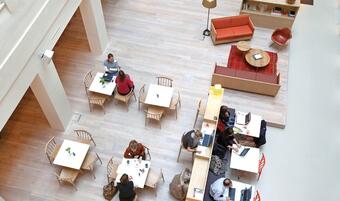 Kako doznajemo, čak 85 posto motivacije djelatnika pada nakon prvih šest mjeseci na radnom mjestu te ju je veoma teško zadržati na visokoj razini nakon tog razdoblja. No, moderno uređenje ureda zaposlenicima pruža osjećaj da rade za kompaniju kojoj je stalo do svojih radnika, koja je napredna i koja prati trendove te su stoga njeni djelatnici i ponosni na svoje radno mjesto.
Samo mali dio toga su boje za koje je znanstveno dokazano kako utječu na naše raspoloženje. Stoga će mali, zatvoreni prostori neutralnih boja, smatraju uredski dizajneri, radnike podsjećati na zatvorske ćelije i osobe koje borave u tom prostoru na niskoj su razini energije i u depresivnom su stanju. Jarke i moderne boje, s druge strane, potiču kreativnost. Osim toga, ured bi trebalo urediti biljkama budući da, kako piše Forbes, uredi s tzv. biofiličnim dizajnom povećavaju produktivnost zaposlenika za 15 posto.

Različiti ljudi različito funkcioniraju i koncept tradicionalnih ureda u kojem svatko ima svoju prostoriju sa stolom i računalom zastario je i u suvremenom tehnološkom svijetu nije uspješan. Mnogi će reći da im je teško koncentrirati se u otvorenom prostoru koji je dio "modernog ureda" i da im pada produktivnost. Čak 80 posto ljudi preferira privatnost pri pisanju, 70 posto dok čitaju te 81 posto ljudi na telefon više voli razgovarati u privatnosti. Stoga i to treba uzeti u obzir pri uređenju ureda, a ne slijepo slijediti trendove. Kompanije bi svojim zaposlenicima, primjerice, mogle pružiti slušalice koje izoliraju zvuk kako bi pronašli mir i tišinu u glasnom i užurbanom radnom prostoru.
Ipak, ono što prvo treba imati na umu jest ergonomija, odnosno oprema i uređaji u uredu koji najbolje odgovaraju ljudskom tijelu i njegovim pokretima. Preciznije, oprema treba biti što funkcionalnija, na njoj je da maksimizira radni učinak, a da je pritom sigurna i udobna. Vrećasti stolci udobni su i u njima je lako opustiti se i voditi neformalni razgovor, no nisu praktični za rad, nisu ergonomično opremljeni za današnji mobilni svijet. Stolac danas treba pružiti potporu pri pisanju, čitanju i prezentiranju. Namještaj, naglašavaju dizajneri ureda, ne bi samo trebao biti udoban nego mora inkorporirati ergonomiju. Zaposlenicima stoga treba omogućiti i rad na stajaćim stolovima, budući da konstantno sjedenje šteti leđima i držanju. Usto, ekrani računala trebali bi biti u ravnini s glavom ljudi te je u tu svrhu potrebno omogućiti prilagodivo postolje za računalo ili laptop radnika.
Zapravo je poželjno da cijeli ured bude na neki način prilagodiv, odnosno multifunkcionalan i fleksibilan. Tako zaposlenici mogu mijenjati svoj prostor za rad onako kako im najviše odgovara, a sastanci se mogu održavati ovisno o broju ljudi koji na njemu sudjeluju. Dodatno, to daje dinamiku radnom prostoru.
'Coworking prostor'
Uz to, potreban je i zajednički prostor koji će zaposlenicima omogućiti da se maknu sa svoje radne jedinice kako bi se mogli opustiti i maknuti od stresa. Nitko ne želi cijeli dan biti vezan za svoj stol, a i prostorom za odmor zaposlenici će dobiti osjećaj bolje ravnoteže između posla i privatnog života. Otvoreni prostori u kojem se djelatnici mogu slobodno kretati, zajedničke prostorije, to je ono što mlađe generacije poput milenijalaca danas privlači u kompanijama jer im pruža osjećaj zajednice, a kako su brojna istraživanja pokazala, upravo je osjećaj zajednice na radnom mjestu faktor koji je današnjim generacijama važniji i od same plaće. Dodatno, u manje formalnom okruženju, zaposlenici su opušteniji, nisu pasivni pa lakše razmjenjuju ideje i slobodnije se i kreativnije izražavaju te tako bolje surađuju jedni s drugima.
Tome će doprinijeti i tzv. "coworking prostor", odnosno ured u kojem rade ljudi koji su samozaposleni ili koji rade za različite poslodavce, a svi dijele opremu, ideje i znanje. Rad u takvim uredima mogao bi biti i dodatak vlastitom uredu jer potiče inovacije, stvaranje novih poznanstava, kreativnost i nove poslovne suradnje, odnosno znači malu investiciju s velikim povratom.
U kojem god uredu bili, u urede je danas bitno uvesti tehnologiju. Bežični internet, velik broj utičnica ili svojevrsnih stanica za punjenje mobitela, laptopa ili tableta samo je mali dio opreme bez koje u suvremenom svijetu ni jedno radno mjesto ne može funkcionirati. Cijeli svijet je danas na internetu pa tako trebaju biti i kompanije. Cijela tvrtka trebala bi biti povezana, smatraju stručnjaci. Kako bi zaposlenici imali više vremena za svoje zadatke, treba investirati u tehnologiju i u automatizaciju radnih operacija poput rasporeda, podjele zadataka ili pak komunikacije. Sve te podatke danas je moguće spremiti u oblak (eng. cloud) i tako lakše organizirati djelovanje ureda.
(izvor: novac.jutarnji.hr)