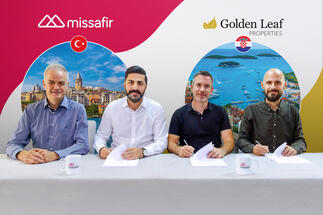 Missafir acquired more than 110 properties of Golden Leaf Properties, a company founded in 2014, and included the end-to-end management of high-quality villas and apartments for short-term rentals in its service network. This service network, which covers the most popular destinations in the Adriatic region, such as Sibenik, Split, Hvar Islands, Zadar, and Trogir, welcomes tourists from European countries such as Germany, the United Kingdom, Poland, and Italy. Missafir will differentiate itself in the industry by providing extensive services such as furnishing, cleaning, listing, and customer service for homeowners in these destinations.
After the acquisition, Mehmet Yüksel, the founder and CEO of Missafir, made the following statement:
"Our entry into Croatia and the acquisition of Golden Leaf Properties hold great historical significance for us as we embark on a journey to become a global brand that introduces Turkish hospitality to the world. We are entering a region that is an important and one of the most popular tourist destinations in recent years, with a large portfolio and a talented team. It will provide us with a competitive advantage in entering the market and will be a strategic step towards expanding into CEE countries that we will continue to pursue rapidly."
Maksimilijan Šprung, one of the founders of Golden Leaf Properties, stated, "We are very excited to be joining the Missafir family. Golden Leaf has been a local property management company for years, and now we are becoming an international brand. With so much experience and potential to be gained from this merger, Golden Leaf and Missafir will be able to provide our homeowners with unparalleled service and our guests an unforgettable experience in our properties. So much positive energy has been created between us, which I am sure will be felt by our employees and passed on to our partners and guests. Like Missafir, one of our main goals is to become known as one of the best places to work in Croatia."
With the acquisition of Golden Leaf Properties, Missafir will be adding new products, mainly in the luxury and VIP segments, and can offer more services to foreign tourists looking for a luxury travel experience during their vacations.
Mehmet Yüksel, stating that they will improve their service quality with new locations, continued his statements as follows:
"In recent years, we have made significant technology investments and believe we have the best technological infrastructure in the European market. With this acquisition, we have created a strong realm to integrate our technology into the other side from day one and benefit from their local market and operational experience. It has been an experience that enables us to snowball effect in Croatia and allows us to enter other markets quickly."
As a result of this, Missafir, which has expanded its service coverage with more than 2,000 homes in over 100 popular locations in Turkey, Northern Cyprus, Montenegro (recently), and Mykonos, has increased the proportion of foreign tourists in its customer portfolio in the accommodation sector. The company anticipates this will significantly increase foreign exchange inflows by providing a higher-quality accommodation experience to tourists visiting Turkey.
A Brand Opening to the World from Turkey
With the acquisition of Golden Leaf, Missafir has also taken its place among the few Turkish ventures that have entered the foreign market in such a short time since its establishment. From the beginning, Missafir has been operating with the vision of becoming a global brand that adds value to Turkey. This breakthrough brings new business models and customer segments. The venture also stated that they have been in a detailed and careful preparation process in many areas, from market research to strategic planning, for this acquisition.
Missafir, which recently completed its pre-Series A investment round, will continue its expansion into the European market. At the same time, as it strengthens its technological infrastructure, the venture is also progressing towards becoming a leader in tourism technology and proptech and launching new technological products. The brand also announced that it would make a launch regarding its developments shortly.
In a period where many technology startups are downsizing, Missafir's growth of 10 times in 2022 and its continued development in 2023 without slowing down with this acquisition is promising news and gives us hope in these difficult times.
To learn more about Missafir, which provides digital solutions with a technology-based innovative property management system for short and mid-term rentals to hosts, you can visit www.missafir.com.