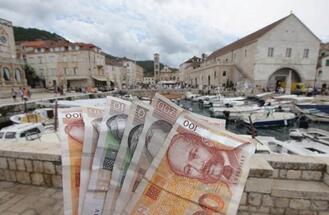 Nakon tri godine natezanja - "hoću-neću-hoću neću", Milanovićevi ministri su prošlog tjedna svečano objavili: "Nismo uspjeli, država je na rubu bankrota, pa ipak uvodimo poreze". I to one kojima su se svi opirali, posebice HNS, ali i mnogi u SDP-u.
Kada su krajem 2012. ministar Slavko Linić i šefica Porezne uprave Nada Čavlović Smiljanec javno iznijeli gotov model poreza na nekretnine, nitko nije ni slutio da će taj, kako su ga nazvali, revolucionarni porez prvo stopirati koalicijski partneri, a onda će sa političke scene nestati i dvoje vrlo moćnih ljudi. U međuvremenu su Linić i Čavlović Smiljanec postali politički suparnici, i jedino što je preživjelo je njihov porez.
Dakle, od 1.siječnja 2016.godine, prema zadnjim najavama potpredsjednika Grčića, Hrvatska uvodi porez na nekretnine a od prvog dana slijedeće godine i porez na štednju. Iako 2016. Milanović vjerojatno više neće biti na vlasti, njegova će koalicija 'u inat' uvesti nepopularan porez i ostaviti ga budućoj vladi. Što će ona napraviti s njim ne znamo ali to bi otprilike trebalo izgledati ovako.
Porez na nekretnine će se plaćati po jedinstvenoj stopi od 1,5 posto, uz velike olakšice za nekretnine koje su u funkciji, odnosno za prvu i drugu nekretninu, što smatraju u vladi, neće biti veće porezno opterećenje za većinu građana od dosadašnjeg.
Porezna osnovica na koju će se obračunavati porez bit će 70 posto procijenjene vrijednosti nekretnine. Na takvu osnovicu obračunavat će se porez po stopi od 1,5 posto, ali samo za one nekretnine koje nisu u funkciji, odnosno u kojima se ne stanuje ili ne obavlja neka gospodarska djelatnost. Građanima koji se koriste nekretninama za trajno stanovanje (kuće i stanovi) porezna osnovica biti će umanjena od 88 do 95 posto, a za nekretnine u kojima se povremeno boravi, u što se ubrajaju kuće za odmor, vikendice, apartmani... porezna osnovica biti će umanjena od 70 do 85 posto. Postotak umanjenja ovisi o odluci jedinica lokalne samouprave, kojima bi porez na nekretnine trebao zamijeniti komunalni doprinos. To znači da će poreznu olakšicu imati i vlasnici bilo koje druge nekretnine u koju povremeno navrate. U pravilu, puni porez po stopi od 1,5 posto plaćat će jedino vlasnici treće i svake slijedeće nekretnina koje nisu u funkciji.
Primjerice, vlasnik stana od 66 kvadrata koji se koristi za trajno stanovanje u Osijeku (fiskalne vrijednosti 660 tisuća kuna) plaćat će godišnji porez od 340 do 830 kuna, ovisno o visini olakšice (od 88 do 95 posto). Danas za takav stan plaća komunalnu naknadu od 460 kune godišnje.
Vlasnik vikendice na Viru od 73 kvadrata, procijenjene vrijednosti od 379.600 kuna plaćat će godišnji porez od 598 do 1.195 kuna, ovisno o olakšici koja za povremeno stanovanje (tzv. druga nekretnina) iznosi od 70 do 85 posto. Budući da sada ukupno za komunalnu naknadu i porez na kuće za odmor plaća 1.678 kuna, proizlazi da će mu porezno opterećenje biti manje. Zato će, primjerice, na stan u Zagrebu u naselju Špansko od 200 kvadrata, u vrijednosti od 1,1 milijun kuna, kao tzv. treću nekretninu, koja se ne koristi i ne iznajmljuje, plaćati godišnji porez od 12.340 kuna, a danas komunalna naknada iznosi samo 800 kuna.
Za stan na splitskim Gripama od 80 kvadrata vrijednosti 1,1 milijun kuna onaj koji u njemu stanuje plaćao bi godišnje između 530 i 1270 kuna poreza, ukoliko bi se on kao druga nekretnina koristio za iznajmljivanje porez bi bio od 1.530 do 3180 kuna, a ukoliko bi to bila treća nekretnina porez bi iznosio oko 10 tisuća kuna.
Jednaku odnosno najveću olakšicu kao i vlasnici nekretnina za trajno stanovanje (od 88 do 95 posto) imat će vlasnici legalno iznajmljenih stanova i kuća. Za poslovne nekretnine također su određene olakšice, koje ovise o vrsti djelatnosti. Tako će olakšicu od 80 posto imati industrija, zdravstvena skrb i obrazovanje, 60 posto građevinarstvo, prijevoz i skladištenje te ugostiteljstvo, 40 posto trgovina, a za sve ostale nekretnine u kojima se obavlja djelatnost olakšica će iznositi 20 posto.
Procjena fiskalne vrijednosti nekretnina obavljat će se svakih pet godina, a ona će biti utvrđena ovisno o kretanju tržišnih cijena ili o cijeni nove gradnje nekretnina sličnih namjena, pri čemu će se uzimati prosjek. Porez na nekretnine plaćat će se mjesečno, a Vladin je cilj postupno ukinuti komunalnu naknadu, zatim porez na nekretnine pretvoriti u lokalni porez koji će služiti za gradnju komunalne infrastrukture, škole, bolnice, vrtića, sportskih i kulturnih objekata.
Za razliku od poreza na nekretnine već od prvog siječnja iduće godine uvest će se porez na kamate na štednju od 12 posto. To stoji i u vladinom Programu konvergencije Hrvatske za razdoblje od 2014. do 2017. Unatoč obećanjima kako se porezni teret više neće povećavati, barem ne u sadašnjem mandatu, u Programu je vrlo jasno navedeno da se od slijedeće godine uvodi porez na kamate na štednju od kojeg će u 2015. proračun "ojačati" 300 milijuna kuna.
Novi porezni namet na zarade od kamata država će provesti kroz izmjene oporezivanja dohotka. Najmanja predviđena stopa od 12 posto poslužit će kao baza za oporezivanje kamata od štednje, od čega će biti izuzete jedino kamate na stambenu štednju. Kamata na manje depozite, prema obećanju, neće biti oporezovane. No konkretne brojke biti će uređene kroz posebni zakon koji će biti donesen na jesen, ali građani koji imaju male štedne uloge ne bi bili podvrgnuti tim porezima već samo oni koji imaju velike depozite, no koliko će biti granica između velikih i malih uloga tek treba vidjeti.
Iako takav porez već postoji u svim članicama Europske unije, bankari smatraju da će uvođenjem tog poreza domaći depoziti pobjeći u strane banke.
Izvor: Dnevno.hr - Dražen Boroš