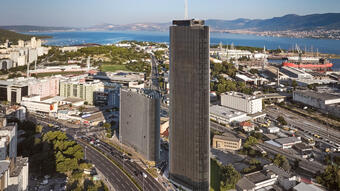 "We are excited to bring AC Hotels' design-driven guest experience to the Dalmatian Coast, expanding Marriott Bonvoy's footprint in the region," said Matthew Boettcher, Vice President and Global Brand Leader, Distinctive Select Brands. "Housed in a prime location in the city centre of Split, AC Hotel by Marriott Split is set to serve as the perfect base for a seamless, comfortable experience for both business and leisure travellers."
AC Hotel by Marriott Split serves flavours of Mediterranean cuisine in Laureto Restaurant and a range of cocktails at the Cumano Bar. Other facilities include 178 SPA featuring an indoor pool, sauna and steam room; a 325 square-meter meeting space accommodating up to 240 people, and a gym with state-of-the-art Matrix equipment and unobstructed views of the Adriatic Sea.
"The opening of AC Hotel by Marriott Split marks an exciting chapter for the local hospitality industry as Marriott International brings the AC brand to Croatia. We hope to contribute significantly to the region's economic growth by attracting business and leisure travellers alike as well as fostering corporate partnerships. We look forward to welcoming guests to the AC Hotel Split and showcasing the distinctive offerings of our new hotel." said Ljubica Bauk, General Manager of AC Hotel by Marriott Split.
Source: Property-forum.eu