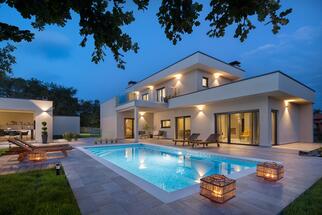 There is no crisis in the sale of real estate in the Istrian County, but also in some other Croatian regions. Although many economists and economic analysts have predicted that even the rich in the crisis will tighten their belts, real estate experts warn of a completely opposite paradox. More and more expensive, luxurious and brand new holiday homes with swimming pools are for sale, and in such facilities, although not necessarily by the sea but also in the interior of Istria, it is difficult to find a place to rent for a week or two. In short, the real estate business is flourishing along the coast, and Romina Čunko, a real estate agent from Labin, revealed to us exactly what is being sought and who is buying.
There is no crisis as far as the real estate market is concerned, regardless of the crown. There is a lot of work, a lot of inquiries and demand, and a lot of realization. People who have money want to invest in real estate to keep some value, "says Čunko.
He points out that in general there has been a great dynamics in the sale and rental of real estate in Istria in the last year.
"As far as buying is concerned, investors with deeper pockets are coming. Everything is going well, but buyers prefer to buy new houses, more modern style. There are also those who like Istrian style, stone houses, but they are new, and the demand is great," reveals Čunko. .
Therefore, luxury houses with swimming pools in the interior of Istria are most in demand, but even old stone houses have not lost their sales potential. "If it's indigenous stone houses, they are for sale and are always interesting. What is not going well is the construction from the eighties or nineties. Here in Istria, Germans and Austrians buy the most, and there are others. It is important that the house looks in OK, it doesn't have to be a flat-roofed house, it's important that it's more modern. However, buyers are more inclined to have flat roofs, "says Cunko.
Our interlocutor also reveals the prices of the roof over your head, even if it is flat. "Luxury houses cost from 650 thousand euros and up, depending on the size and location. There are beautiful buildings and over three hundred thousand, but mostly ranging from 650 thousand euros. There are some three million euros, if they are closer to Pula or larger cities . "
For such big money, a little luxury is required, but above all, it should be new construction.
"We are looking for designer furniture and a beautifully landscaped environment, mainly that everything is new and beautiful. And that it has a swimming pool. Such houses are mostly bought by foreigners, while locals buy up to 300-350 thousand euros. No more than that," reveals Čunko.
Boro Vujović from a large Zagreb real estate agency confirmed this in a guest appearance on N1 television: "There is a growing interest in the hinterland, especially in Istria. It will be easier to rent a house with a pool 15 kilometers from the sea than an apartment 15 meters from the sea. intimacy, isolation, they don't want to be in a crowd, among a large number of people, that has changed since the crown, "says Vujović.
It confirms that a crown-paradox has occurred in the real estate market that is currently flourishing.
- The fact is that interest in real estate exists. Something unexpected happened - the corona was supposed to lead to a negative price correction, and they started to rise in price. One of the reasons is inflation, ie the fact that the states have released a large amount of money into circulation and some people are looking for a way to save the value of money and buy real estate. The price of construction materials is also rising. It has risen between 25 and 30 percent this year, and that will affect the price per square meter in the coming period, warns Vujovic.
He says foreign buyers are most interested in real estate on the coast.
- Every year, the average is that about 30 percent of all sales are made by foreigners. There is interest, especially after the crown and the situation that people can work from home. There is great interest in real estate on the coast and in this context, real estate prices in Croatia are cheap compared to Germany, Austria and Slovenia. It has been seen in the last period that the more luxurious the real estate, the better it passes and the easier it is to sell. There are not many such customers, but there is always someone for whom money is not a problem.
Real estate of average value is, admittedly, the most represented, but there is a greater demand for luxury real estate than before, he concludes.
Source: GlasIstre.hr