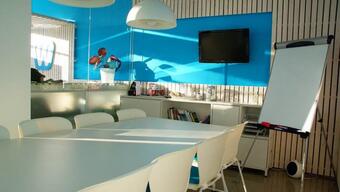 U većini kompanija naći ćete zaposlene raznih godišta, od onih koji imaju tridesetak godina (pripadnici milenijumske generacije) pa do onih koji su u kasnim pedesetim godinama života (takozvana generacija bejbibumera).
Osim za poslovođe, ovo je zanimljiv i veliki izazov i za sve one koji se bave uređenjem prostora, odnosno dizajnom enterijera. Velike kompanije znaju koliko je važno da njihovo radno okruženje bude prijatno kako za klijente tako i za zaposlene, pa sve češće angažuju profesionalce za uređenje radnog prostora. Pri uređenju i dizajniranju poslovnog prostora generacijski jaz između zaposlenih je često i najveći izazov za dizajnere enterijera.
Kako prevazići generacijski jaz
"Stariji zaposleni obično nisu presrećni zbog ideje otvorenog radnog prostora, jer su naučili na kancelarije, dok je upravo taj otvoreni i zajednički prostor ono što mladi žele", navodi Tanaj Hol, direktorka kompanije "Grinlif buk grup" (Greenleaf Book Group).
Podela je odraz vremena u kome su ovi ljudi počeli da rade. Pripadnici starije generacije počeli su da rade uglavnom u vreme kada je hijerarhija u firmama bila jasno naglašena. Ta hijerahija nije postojala samo u SAD, isto se dešavalo i kod nas u svim državnim i privatnim firmama. Foto: PIxabay
S napretkom se promenila i kancelarija, koja je postajala bolja i veća. Međutim, današnje generacije početnika u poslu ne žele izolaciju. Žele transparentnost i saradnju, prostor za kreativnost i ne žele hijerarhiju. Pa, kako dizajnirati poslovni prostor koji će sve generacije da učini srećnim i produktivnim?
Predstavljamo vam nekoliko saveta za dizajn enterijera poslovnog prostora.
Razmislite o tome šta motiviše zaposlene
Pre nego što počnete da radite na svom dizajnu, provedite neko vreme ispitujući firmu za koju radite uređenje enterijera, a posebno obratite pažnju na kulturu firme.
Da li zaposleni traže inspiraciju i kreativnost? Ili su motivisani konkurentnim kompenzacijskim podsticajima? Da li imaju česte sastanke s klijentima i kupcima? Ili se sve obavlja preko i-mejla?
Primera radi, "Grinlif" je kreativna firma, u kojoj se podstiče saradnja. Upravo zbog toga za njih je važno da imaju više prostora za sastanke, u kojima zaposleni mogu da se okupe. Mesta kao što su Legove kancelarije u Danskoj dizajnirana su tako da podstiču i asociraju na spoj posla i igre.Uostalom, ta kompanija se vodi sloganom "Budućnost igranja", pa radni prostor s toboganom za zaposlene deluje kao logičan izbor. Na suprotnom kraju spektra, kada naiđete na firmu u kojoj su zaposleni usmereni na individualne ciljeve i podsticaje, treba da znate da njih mogu da pokreću različite stvari, a kancelarijski prostor bi trebalo to da odražava.
Razmotrite načine na koje možete da smanjite buku, tako što ćete napraviti više određenih delova prostora koji su za telefoniranje ili mesta na kojima mogu da imaju privatnost. Uverite se u to dadizajn poslovnog prostora odražava kulturu firme i podržava napore njenih zaposlenih. Foto: Foter/Victor 1558
Izbegavajte generacijske stereotipe
Drugim rečima, nemojte da unesete u svoj dizajn sto za ping-pong. To možete učiniti jedino ako ste sasvim sigurni da on neće skupljati prašinu. Ne žele svi pripadnici milenijumske generacije svetao, prozračan prostor, s minimalističkim dizajnom (koji podseća na skladišta), niti svi pripadnici starijih generacija žele svoju kancelariju s lepim pogledom.
Zato morate da saznate šta je cilj kompanije i šta njeni zaposleni žele. Možda ćete se iznenaditi ovim saznanjima.
Takođe, imajte na umu i to da trendovi na radnom mestu dolaze i odlaze s vremenom. Trenutno aktuelni "otvoreni radni prostor", o kom se toliko raspravlja, uveden je 1950. godine kao način da se smanje troškovi i poveća produktivnost. Ta ideja je nedavno doživela preporod, ali je mnogi doživljavaju kao nešto što neizostavno moraju da imaju firme u kojima su većina zaposlenih mladi.
Međutim, istraživanja sprovedena na Univerzitetu Eksiter pokazala su negativne posledice ovog dizajna, kao što je: smanjena produktivnost zbog prevelikog ometanja, lakše širenje virusa, što dovodi do čestih bolovanja i sličnih problema. Usvajanje određenog trenda i pravca u dizajnu može da izoluje druge generacije, koje će se osetiti kao da nisu prioritet ili da su višak.
Budite realni u ponudama Foto: pixabay.com
Dizajn enterijera poslovnih prostora je postao veoma aktuelna tema, jer dizajn igra sve značajniju ulogu u poslovanju. Kompanije kao što je "Klaud DCS" (Cloud DCS) u Kini stvorile su zaista fenomenalne kancelarije i enterijere koji su za divljenje. Ali realnost je to da većina vaših budućih klijenata neće moći da priušti tobogane, sobe za odmor, bazene ili umetničke instalacije.
Zato je dobro da odmah na početku razgovarate sa svojim klijentima i ukažete im na ono što je realno i očekivano, kako kasnije ne bi bili razočarani. Napravite nekoliko predloga koje ćete im ponuditi, a koji se mogu ostvariti na osnovu budžeta koji klijent ima.
Budite čvrsti u svojim odlukama
Kao i u svemu, tako ni ovde nećete biti u stanju da zadovoljite svačije ukuse. Umesto da to pokušavate, ne zaboravite da je vaš posao ne samo da uredite kancelarijski prostor da izgleda lepo, već i da osigurate produktivnost i sreću ljudi koji rade u njemu.
Dizajneri enterijera rade jedan od najkreativnijih poslova, koji je uz to i izuzetno dobro plaćen. Ako vas interesuje karijera u ovom poslu, više o tome možete saznati na fakultetu za dizajn enterijera.
(source: Telegraf.rs)