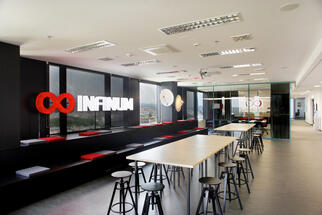 One of Croatia's most successful software companies, Infinum, which mostly exports its services to foreign markets, is continually growing. While their employees work with digital spaces, the physical one they work in day-to-day had at one point become too small. For help they turned to Brigada, an agency with a number of award-winning office spaces under its belt.
They placed the new office just a few floors above the already existing one, at the top of Zagreb's newest skyscraper in Strojarska ulica. "This location above the city, as well as the company's success, brought to mind for us superheroes", they tell us in Brigada, and that idea is subtly present in all the material used, details, and the overall approach to the design.
Like similar companies, because of their needs, Infinum's new office is also an open one with separate smaller zones for meetings, team work, relaxation and socialization. "This type of space improves work dynamics and encourages a laid-back atmosphere" explains Brigada. This resulted in the need for more intimate spaces as well, where employees can conduct longer business-related conversations or private ones in quiet and without distracting others at work. Because of this, two phone booths offering a quiet corner were introduced in zones which are often left unused, such as hallways and corner areas.
Simply designed work zones with neutral colors are interwoven with other zones with various functions which have more pronounced colors and unique designs. The office becomes a cozier place with a bit of subtle humor found in details such as the names of these spaces or unexpected details such as satellite antennas.
The most representative meeting rooms and conference halls call to mind the superpowers of superheroes and include an X-ray room and an invisible room which is "hidden" in plain sight behind the reflections of a mirror.
Infinum's employees most often gather in the Chill Zone. Made to adapt to various occasions, it is a central meeting point. In its stands employees can rest or watch lectures and seminars like in an auditorium. Modular desks and a kitchen with bar table serve for meals during one time of the day and during another, with a few adjustments, they become a place for socialization, entertainment, and larger gatherings.
The dominant colors – red and anthracite grey – were taken from the company's visual identity, as was the shape of the logo, which a large, illuminated version of was also created. Brigada achieved a solid and powerful but also comfortable feel in the space with the simple design of elements and with the colors, metal profiles, and light and dark wood.
An important element is the uniquely designed lighting, including the LED lighting discretely incorporated into the furniture elements. This contributes to the desired feeling of speed, modern technology and the super powers of Infinum's programmers. The project's creative director was Damjan Geber, the architectural project leader was Ena Tadej, and the project manager was Ivana Validžić. Vlatka Leskovar was the furniture design leader and Mia Štajer was the production leader. Others who worked on the project were architect Petra Kolarec and furniture designers Ana Herceg, Casey Harmon and Marko Vukojičić.