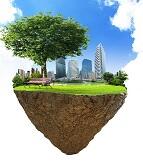 Što znači biti ekološki osviješten?
Najjednostavniji način objašnjenja je da je to akt življenja s namjerom. Usredotočen na to da ne stvara štetu okolišu. Nadilazi ideju i proteže se na stvarnoj praksi koja utječe na ponašanje zajednica, tvrtki i pojedinaca
Slijedite naše savjete da ne zaostajete.
1. Pomaknite se gore!
Prva stvar koju možete učiniti je da hodate ili biciklirate na posao umjesto da se vozite s automobilom. To će vam pomoći ne samo smanjiti zagađenje ali i da budete u formi. Proljeće dolazi, jutra su manje hladna i sunce sja. Što biste još željeli imati? Stavite svoje sunčane naočale i započnite. Ako imate dug put do svog radnog mjesta možete koristiti javni prijevoz uz omiljenu knjigu, ili dijeliti auttomobil sa svojim kolegama.
2. Smanjite potrošnju energije
Drugi način da ste više ekološki osviješteni je da štedite energiju. Postoje neke sitnice na koje treba obratiti pozornost jer mogu snažno utjecati na potrošnju energije. Koristite energetski učinkovitu opremu. Smanjite termostat noću i vikendom. Isključite računalo i ostalu elektroničku opremu kada nije u uporabi. Koristite prirodno svjetlo što je više moguće. Ne postoji zamjena za ambijent, zbog prirodnog sunčevog svjetla.
3. Printati ili ne printati...
Printajte samo kada je to potrebno. Već ste mogli pročitati ovu rečenicu mnogo puta prije, na kraju gotovo svake pošte koju ste primili. Nije li tako? Dakle, ne proslijeđujte ga više. Spremite dokumente na računalu, pošaljite ih poštom, radite pametno. Tijekom sastanka će biti puno profesionalnije ako umjesto distribucije ružnih uvezanih dokumenataa dijelite svoju prezentaciju ili je prikažete na internetu. Ako je potrebno ispisati svoj posao, kupite reciklirani papir i koristiti ga višestruko dvostrani i ne bojite postavke.
4. Prigrlite prirodu
Biljke izgledaju lijepo, stoga ukrasite vaše radno mjesto i oslobodite ga onečišćujućih tvari iz zraka.
Neka je nekoliko biljki u vašem uredu, vi ćete odmah primijetiti promjenu u ambijentu prostora. To je savršen način za dodavanje svježine zatvorenom prostoru.
5. Ekološki način života
Motivirajte svoje kolege i ljude oko vas da ste u ekološki osviještenom načinu života koji se proteže i izvan ureda. Puno je lakše prijeći na zeleni način život kad to postane navika, a ne samo prisilna promjena koju rade samo na vašem radnom mjestu. Možete ići dalje s tim u svom svakodnevnom životu i kupiti reciklirane proizvode, koristiti strategiju štednje vode ili posadite biljku.
Dok se prijelaz na planetu ekološki svijesnog okruženja može činiti izazovnim na početku, ubrzo ćete shvatiti da to nije tako teško kao što se čini. Dakle budite kreativni, podijelite ovaj članak sa svojim kolegama i prijateljima i go go green!