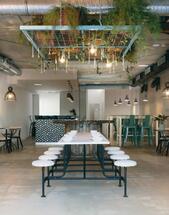 The largest coworking space in Split, WIP (Work In Progress) brings 300 m2 of perfectly designed work space. The first in Split, intended for digital nomads, 70 of them, more precisely. Namely, the space brings up to 70 seats, ie work units, conference rooms, special rooms for telephone calls, a coffee grid and what is most important to you - the space is open 24 hours, 7 days a week.
Space visually brings a combination of industrial and Scandinavian designs with many doses of Dalmatian charm. Such an environment was created with the aim of encouraging, inspiring and supporting individual and collaborative projects and individuals. The WIP site believes innovation stimulates innovation and keeps this thought on the minds of entrepreneurs and pioneers on that step further. The place is where inspiration arises and where different ideas are realized in reality.
You can find out more about the Work In Progress coworking site at wipcoworking.com and track them through Facebook and Instagram profiles.