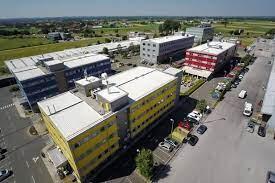 M7 will continue to manage the property on behalf of the new owner, the real estate company said in a statement without disclosing the value of the deal.
- The sale completes the divestment of M7 Central European Real Estate Fund I, a value-added fund with a portfolio of 21 logistics, office and retail properties in key Central European markets, generating total sales revenue of EUR 182 million and an IRR of 25% significantly ahead of the fund's business plan, M7 added.
In 2016, M7 acquired the Mani Business Center, a 12,900-square-foot multi-purpose office building, and implemented an extensive asset management strategy to upgrade it and improve engagement with new and existing customers. As a result, the asset occupancy rate rose from 54% to 98%, generating a stable revenue stream with a weighted average lease term of 2.7 years.