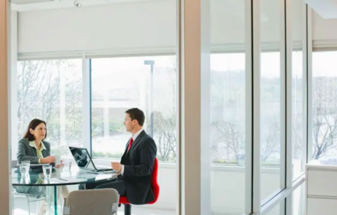 Landlords with insolvency threat?
Rather than owning property, IWG takes out long-term leases on buildings and then sublets them out on a shorter-term basis. Like many others in the industry – such as beleaguered rival WeWork – it operates via a number of smaller subsidiaries that rent locations and are ultimately liable for the leases as opposed to the parent company IWG. This means that when times are tough, IWG can place these subsidiaries into administration to dissolve their lease commitments, often leaving landlords empty-handed. Over the past few months, IWG has filed for 'Chapter 11' bankruptcy for some of its affiliates in the US – a process which allows it to restructure its debt and assets while remaining open.
Regus plc is the largest subsidiary and provides rental guarantees for around 15 per cent of IWG's global network. The group says that "as the business has expanded in recent years to meet the increased global demand for distributed working, so has the value of the guarantees." While IWG has not commented on how much it would save by filing for insolvency for Regus, according to The Times, the move would get IWG off the hook for £790m of lease agreements, spread across 500 properties.
As a second wave of Covid-19 extends the working from home boom, IWG is returning to an established playbook to ease the pressure – back in 2010, the group warned landlords that it would place parts of its business into administration unless they accepted rental cuts. In the wake of the dot-com crash in 2003, it also sought Chapter 11 protection for its entire US Regus business and to renegotiate rental agreements.
IWG says that it has resorted to insolvency measures because "the Covid-19 pandemic is a black swan event and it has severely impacted our business and presented us with unforeseen challenges."
At the time of its half-year results in August, the group warned of "significant volatility and business disruption" impacting the rest of year and potentially 2021 as well. But it also struck a confident tone for the future of co-working. Having raised £320m through a placing and retail offer in May, IWG said that it was looking to expand organically, pick up distressed assets and pursue other M&A opportunities. It also asserted that its portfolio would be suited to a shift away from city centres towards satellite offices in more suburban locations. But filing for insolvency for Regus suggests that it is facing more near-term struggles.
Reflecting the turmoil inflicted by Covid-19, IWG's shares are down around 70 per cent so far this year. The 'death of the office' is perhaps exaggerated and IWG has remained convinced throughout this crisis of the structural growth drivers for flexible working. Some private equity players are also confident that demand for office space will return – US giant KKR recently took a 5.35 per cent stake in Great Portland Estates (GPOR). But with the pandemic still not under control and now facing an economic downturn, it will likely be a long road to recovery for IWG. Its latest manoeuvrings could also create a lot of bad faith with landlords.