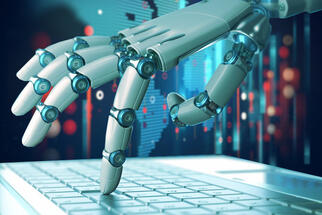 Budućnost rada već sve više postaje sadašnjost za milijune zaposlenika i tvrtki širom svijeta. Rezultati najnovijeg Izvještaja o budućnosti radnih mjesta Svjetskog gospodarskog foruma pružaju uvid u trendove koji se očekuju u razdoblju od 2018. do 2022. u 20 gospodarstava i 12 industrijskih područja. Evo što trebate znati kako bi se mogli na vrijeme pripremiti:
1. Automatizacija, robotizacija i digitalizacija različito utječu na različite industrije
Mobilni internet velike brzine, umjetna inteligencija, analitika velikog broja podataka i tehnologija clouda bit će na prvome mjestu novih tehnologija koje će tvrtke usvajati između 2018. i 2022. godine. Mnogi će isto početi ulagati i u strojno učenje, kao i pojačanu i virtualnu stvarnost. Nasuprot tome, ulaganje u onu vrstu robotske tehnologije kakvu zamišljaju filmovi i popularna fikcija ostat će tijekom ovog vremenskog razdoblja unutar strogo određenih krugova, ali i njen se razvoj ubrzava. Nepokretni će roboti vjerojatno do 2022. biti već široko prihvaćeni, no različite industrije imaju različite specifične potrebe za robotima.
2. Postoji sveukupno povećana ponuda novih radnih mjesta
Do 2022. sada novonastala zanimanja narasti će za 16%- 27% u broju zaposlenika u velikim tvrtkama diljem svijeta, dok će se poslovi koje koje trenutno pogađa tehnološko zastarjevanje smanjiti za 32%-21% u broju zaposlenika. To znači da će 75 milijuna sadašnjih radnim mjesta nestati tijekom preraspodjele rada između ljudi, strojeva i algoritama, dok će istodobno nastati 133 milijuna novih radnih mjesta.
Novonastala zanimanja uključuju analitičare podataka, razvojne programere softvera i aplikacija, te stručnjake za e-trgovinu i društvene medije. Radi se o radnim mjestima koja se značajno temelje, ili su pojačana, korištenjem tehnologija. No očekuje se i rast poslova temeljenih na izričito 'humanim' svojstvima, poput djelatnika u službi za korisnike, merketinških profesionalaca, stručnjaka za osobni trening i razvoj, kulturu, kao i inovacijske menadžere.
3. Raspodjela rada između ljudi, strojeva i algoritama brzo se mijenja
Poslodavci očekuju značajniju promjenu u raspodjeli rada između ljudi, strojeva i algoritama kada su u pitanju sadašnji radni zadaci. Trenutačno u prosjeku 71% svih radnih sati u industrijama koje pokriva Izvještaj o budućnosti radnih mjesta obavljaju ljudi, a 29% strojevi i algoritmi.
Do 2022. očekuje se kako će se taj prosjek pomaknuti tako da će 58% radnih sati obavljati ljudi, a 42% strojevi ili algoritmi. Kada se promatraju ukupni radni sati, danas još ne postoji radni zadatak kojeg većinom obavljaju strojevi ili algoritmi. Do 2022. godine 62% organiziranog procesiranja podataka i traženja informacija vršit će strojevi. U odnosu na njihove današnje početne položaje, eksplozija širenja udjela posla strojeva biti će posebno vidljiva u poslovima koji se odnose na donošenje odluka, upravu i traganje za informacijama. Čak i radni zadaci koje danas gotovo isključivo obavljaju ljudi – komunikacije, interakcije, koordiniranja, upravljanje i savjetovanje, početi će preuzimati strojevi, no u manjem obimu.
4. Novi zadaci na radnim mjestima zahtijevaju nove vještine
Do 2022. vještine potrebne za obavljanje većine poslova značajno će se promijeniti. Globalni prosjek "stabilnosti vještina" – proporcije temeljnih vještina potrebnih za obavljanje posla koja će ostati iste, očekuje se da će biti oko 58%. To znači da će zaposlenici u prosjeku morati promijeniti oko 42% svojih potrebnih radnih vještina u periodu do 2022. godine.
Vještine čija važnost raste uključuju analitičko razmišljanje i aktivno učenje, kao i tehnološki dizajn, ukazuje na sve veću potražnju za raznim oblicima tehnološke kompetentnosti. No biti vješt u novim tehnologijama pokriva samo jedan dio ovih novih potreba. "Humane" vještine poput kreativnosti, originalnosti i inicijative, kritičnog razmišljanja, uvjeravanja i pregovaranja zadržat će ili čak i još povećati svoju vrijednost. Emocionalna inteligencija, vodstvo i društveni utjecaj isto će doživjeti porast potražnje u odnosu na njihov trenutačni položaj.
KAKO ĆE SVIJET IZGLEDATI U IDUĆIH DESET GODINA: Bloomberg objavio osam scenarija koji bi mogli iscrtati budućnost čovječanstva
5. Svi ćemo morati učiti tijekom cijelog života
U prosjeku zaposlenicima će trebati 101 dan ponovne edukacije i poboljšavanja vještina u periodu do 2022. godine. Novonastali jaz između postojećih i potrebnih vještina, kako među pojedinim radnicima tako i među višim vodstvom velikih tvrtki, mogao bi značajnije opstruirati nužnu transformaciju organizacija. Ovisno o industriji i zemljopisnom položaju, između polovice i dvije trećine tvrtki vjerojatno će se okrenuti vanjskim podizvođačima, privremenom osoblju i freelancerima kako bi bi se premostili ti jazovi u vještinama. Za pozitivan, proaktivni menadžment ključan će biti opsežan pristup planiranju radne snage, te mijenjanju i poboljšavanju vještina zaposlenika.