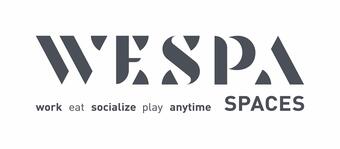 Can you tell us a bit more about the WESPA project and the coworking space?
Wespa Spaces is a new business centre and coworking space which, in addition to the business part, also boasts an impressive space and offer ideal for various events, from smaller lectures and presentations to larger events and various conferences.
The most important part of every workday is the workplace and the office environment where you spend it. Accordingly, Wespa spaces strive to provide comfort and functionality, as well as a choice that suits most work needs. The very essence of this unique space is in the name of WESPA, which is an abbreviation for work-eat-socialize-play-anytime.
The area of ​​2600 m2 is spread over three floors and is divided into special-purpose zones. The entire complex contains 320 office and semi-open workstations and 20 meeting rooms, including call booths. This modern office concept is designed to create a stimulating work environment for modern companies that require the office to have a superior working experience throughout the working day, and cover all business needs through innovative and digitized approaches to sharing resources and content.
As already mentioned, Wespa Spaces is not only a place to work, but also contains areas for rest and entertainment, where you can play PlayStation, various games and watch movies, but also 350 square meters of conference space divided into halls from 8 to 200 seats. places, which can be adapted to various events and conditions. Within the space there is a restaurant and cafe that offer healthy, organic, freshly prepared food daily.
What is the difference between HUB, Open Space Office and Coworking Office?
Wespa Spaces as the entire space and the entire offer it offers is HUB, and within HUB there are open space offices and coworking space, as well as independent offices. Open space offices are offices in an open space where it is possible to rent 1 table, but also the entire zone. In the open space, tables can be rented for a long time or only for 1 day or a month. Coworking space is a space that includes open space and office space. The point of the coworking space is for the tenants to get to know each other and exchange knowledge and experiences. In particular, in Wespa Spaces the 1st floor is reserved for coworking space with open space tables and several offices, while the 2nd floor is reserved exclusively for offices, the largest of which are for six people, which individual companies can rent depending on the size they need.
Can you tell us more about the offer you are offering?
We offer various possibilities of renting space, whether it is a business aspect or the organization of certain events, promotions and the like. In Wespa spaces it is possible to rent a workspace in the form of a desk or office. We offer different packages, depending on the needs of clients. There are options where you can rent a table or tables in the open space area for one day or long term. The situation is the same with offices as far as
rent. In addition to renting an office or workplace, Wespa spaces tenants have all utilities and costs in one price: internet and fair usage printing, fully equipped workplace with a choice of additional ergonomic chair options, 24/7 access to the workplace via application or card, cleaning of work space 2 times a week with daily cleaning of common areas, use of kitchenettes on each floor, access to meeting rooms, the possibility of discounts on food and drinks, use of conference services and parking and Virtual reception services depending on the selected package.
We also offer rental of meeting rooms and meeting rooms, and companies can use the so-called. A "hybrid" way of working in which employees take turns in one space, for example, one team works one week and another team works the other week, while the first team works from home. Meeting rooms can be rented by the hour, so there is a possibility, for example, for the whole company to work from home with occasional meetings at Wespa Spaces. It is also possible to take a flexible package of renting meeting rooms according to the needs of the client, for companies or individuals who have regular meetings with the aim of further cost optimization.
We also offer fully equipped larger halls ideal for organizing various conferences, lectures, promotions and the like, a smaller cinema hall and a podcast room, and on the ground floor, there is also a restaurant and a coffee bar.
How do you envision the office of the future? Do you believe the concept of work will change?
The concept of work has already changed a lot. Due to the situation with the coronavirus, many companies were forced to apply a completely different work than before and apply a hybrid mode of operation or complete work from home. Many companies in the current situation have realized that this way of working suits them and that they will not need the current capacity to work in the future. For the sake of new organization and cost optimization, such companies will take smaller offices and rent offices, meeting rooms and/or halls from Wespa spaces and similar spaces as needed.
Government of the Republic of Croatia is considering the introduction of visas for digital nomads. Your opinion on that?
Wespa Spaces follows all modern trends in the way of doing work, so digital nomads come as a natural evolution of the idea that the most important thing for a working day is experience, focused on productivity and quality of work, and less on location and standard workplace formalities. Digital nomads embody this idea in a modern form. When they come to a city in places like Wespa, they meet new people and expand their network of business, contacts and jobs, and hubs suit them best precisely because they can rent space there for a month or two, without signing long-term leases. and contracts. Wespa Spaces certainly supports the introduction of visas for digital nomads and looks forward to them as future tenants.
Currently, the current campaign is underway, so until the opening of Wespa Spaces, you can rent workspace at prices 20-30% lower, depending on the package you choose!