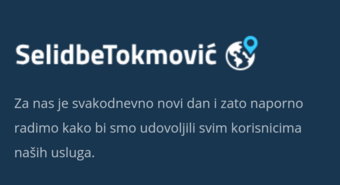 Our family business was founded in 1978 in Zagreb. Since its inception, the primary activity is the provision of relocation services and related activities such as furniture disassembly / assembly, loading and unloading services, sales of packaging materials (packaging box, adhesive tapes, transparent foils, foil with air pockets, glass wrapping paper, ceramic and porcelain items, etc.)
Since its establishment, we have also equipped our vehicles and their cargo space to be subject to the greatest possible safety of furniture, both from the weather and from possible damage during transport. Vehicles have always been (except in the early beginnings, when we talk about some other possibilities, both because of the system at the time, because of the choice of vehicles) hard sides of the box type, size 32-39 m3 and vans up to 16 m3, upholstered interior cargo space, with 30-40 covers for furniture protection and straps for tying furniture.
When moving office space, the organization of the company that is moving is important. On the agreed day of moving, if everything is packed in boxes, if the "drawers" are emptied. disconnected computers, server closet disassembled, "moving will be a song".
Of course, boxes, furniture, equipment, etc. for efficient moving should also be adequately marked so that when unloading they know where which box, furniture or inf. the equipment goes into which room.
Depending on the dimensions, the boxes should not be cluttered (especially with archives, papers and documents), so it is better to take boxes of smaller dimensions.
From the experience of "problems" in moving office space, they would eventually single out the inf. equipment, which in the end in most cases we have to disconnect ourselves, the bias of the boxes and not the organization of the company that is moving.
For more information contact - https://selidbe-tokmovic.hr/