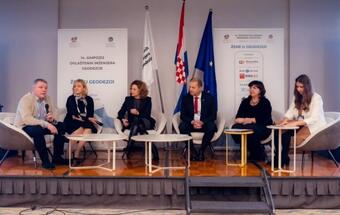 At the round table "Real Estate Tax" of the 14th Symposium of Certified Geodetic Engineers, it was concluded that this tax would reduce the demand for real estate and free up supply. The tax will not bring a lot of money into local budgets, but it will have a positive impact on investments, the roundtable participants said.
Neda Pavlinić from the Tax Administration of the Ministry of Finance stated that the real estate tax is not planned to be introduced for some time.
"The position of the Ministry of Finance is that at this moment the real estate tax is not for consideration," Pavlinic said, adding that the real estate tax was tried to be introduced in 2017, but was dropped due to extreme public outrage.
Even then, it became clear that Croatia was not ready to introduce that tax, she said, emphasizing that even now there are no up-to-date and updated databases, local self-government units did not have enough time to determine zones and coefficients by which to cut.
The director of Colliers Croatia, Vedrana Likan, stated at the round table that a discriminatory system has been created because work is highly taxed, and the rentier economy is encouraged by flat-rate rent taxation. Real estate tax is one of the tools that would support the growth of the construction sector without consolidating and dynamizing the real estate market and becoming more liquid and profitable, concluded Likan.
The 14th Symposium of Certified Geodetic Engineers is held with the main theme "Women in Geodesy". The intention is to point out that more and more women are in the profession. The conference provided insight into new methods of action in geodesy and the further development of modern technologies that can improve geodesy and geoinformatics, but also other marginal areas outside the profession.
Thus, one of the lectures was dedicated to augmented reality entitled "Application of augmented reality in tourism and navigation applications", and was held by Iva Cibilić and Vesna Poslončec-Petrić.
There was talk, among other things, about the use of drones in geodesy.
According to a survey on the use of drones among surveying engineers, members of the Chamber and surveying companies from November 2020, more than half of the respondents stated that they use drones in their work, it was stated at the meeting. Most of them have been using drones for two to five years, which confirms that this is a new technology, but it is also related to the fact that the Ordinance on drone systems was adopted only in 2015, which enabled faster expansion of drones, the symposium said.
The data collected by drones can serve as a basis for making road registers, video visualization, land classifications for control purposes, for analysis of insolation and forest cubature, for recording power lines, vegetation and speleological objects, for 3D model of a settlement, as well as in agriculture.
Source: seebiz.hr