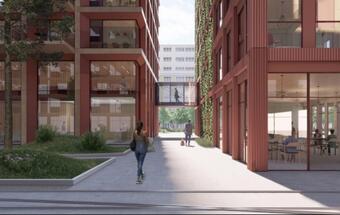 The Rocket & Tigerli project will consist of four buildings, including a 100-meter-high one in the Swiss town of Winterthur near Zurich.
The design will offer modern, high-quality housing with maximum inflow of daylight, according to Danish design firm Schmidt Hammer Lassen Architects (SHL).
The facade will be covered with dark red and yellow terracotta bricks combined with dusty green details, in keeping with the red roofs and yellow bricks of the older buildings in the area.
"We are approaching the project with a great sense of humility," said Christian Ahlmark, partner and director of design at SHL. "It's a big project that will have a significant impact on the community, in a social and aesthetic sense."
There will be housing units in the four buildings, as well as retail space, a bar and a hotel.
It is expected to be completed and ready to move in by 2026.
The project joins other architectural endeavors that want to prove that wood can be used as a foundation for high-rise construction.
The 85-meter-high Mjostarnet Tower in the Norwegian city of Brumunddal became the tallest wooden building in the world when it opened in 2019.
In this 18-storey building are apartments, office space and aptly named Wood Hotel.
Source: seebiz