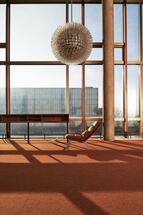 As part of a project to explore the roots of our design in the legacy of modernist Zagreb architecture, we photographed the Kontrapunkt lounge chair in the Vatroslav Lisinski Hall (1958-1973), designed by architects Marijan Haberle, Minka Jurković and Tanja Zdvořak. The project will be fully presented during 2021, and was organized in cooperation with the Tourist Board of the City of Zagreb and public institutions whose architecture is part of the modernist architectural heritage.
Few places in the world have such a firmly rooted tradition of modernist architecture as is the case in Zagreb, the capital of Croatia. It is a heritage that is the foundation and inspiration of the design language of our products. This recording of Kontrapunkt (design: Neisako) is part of a larger editorial realized in some of the main buildings that are the heritage of modernist architecture in Zagreb.
"Selected products formally or textually refer to the ambiences in which they were photographed, sometimes emphasizing their origin, and other times their modernity," said Dora Lončarić from the architectural studio Biro, art director of the editorial.
"Although modernist architecture and Prostoria's products have been separated for more than half a century, they naturally cooperate, complement each other, speak a similar language, and are equally uncompromising. These productions are neither about going back in time, nor about completing a belated future, but about exploring and converging values. It is through the symbiosis of inherited modernist architecture and contemporary design that the room as a regional leader in design, at least virtually realizes the synthesis that was set as the starting point of the unfinished modernist project, "said Maroje Mrduljaš, architectural theorist.
Art Directorate of Photography: Bureau; Photos: Marko Mihaljevic