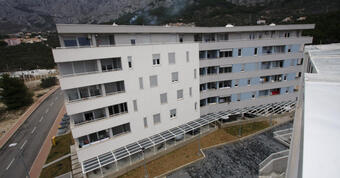 On Friday, the Croatian Parliament amended the Law on Subsidizing Housing Loans, according to which applicants for these loans will have to have registered residence at the address of the purchased or built real estate for at least two years after the end of the loan subsidy.
Such a solution was proposed after abuses were identified in the field, because nowhere was it prescribed how long the owners of state-subsidized real estate must be registered in it.
The novelty is that subsidies will be denied to applicants who have already received them, and that the funds paid will not need to be returned if the subsidized apartment or house is sold for the purpose of buying a larger apartment, house or building a house.
A new deadline is set for December 31, 2023, in which the Real Estate Agency (APN) publishes public calls for subsidies.
For new subsidies in 2021, the state budget provides 50 million kuna, in 2022 and 2023 an additional 50 million each year.
Subsidizing housing loans is a program that the state has been implementing since 2017, helping citizens to repay part of the housing loan when buying an apartment or house, or to repay a loan to build a house for five years.
On the eve of the vote, Tomislav Tomašević (Možemo) and Anka Mrak Taritaš (GLAS) reiterated that Croatia has no housing policy, and that subsidizing housing loans is not a good measure because it contributes to rising real estate prices.
Parliament also passed four laws in the field of banking and deposit insurance, which further harmonize it with EU regulations.
By amending the Law on Credit Institutions and the Rehabilitation of These Institutions and Investment Firms, the Croatian National Bank (CNB) takes over the authority to rehabilitate credit institutions and the Croatian Financial Services Supervisory Agency (Hanfa) over investment firms.
Until now, the role of the resolution authority in both cases, in addition to the CNB and the Hanfa, has been played by the State Agency for Deposit Insurance and Bank Rehabilitation (DAB).
This consequently led to the need to amend the law on the deposit insurance system itself, as well as the law on DAB. Since the rehabilitation will no longer be within their scope, the name of the agency itself will change, so DAB will from now on be the Croatian Deposit Insurance Agency.
The Law on Compulsory Liquidation of Credit Institutions shortens the duration of bankruptcy proceedings, the controlled exit of a failed bank from the market with the aim of reducing risk and spilling negative effects on the rest of the financial market.
The Law on Explosive Substances and the Production and Trafficking of Weapons has also been amended in order to protect people's lives, reduce casualties and injuries, especially of minors.
The amendments, in addition to the previous ban on firecrackers and F3 category guns, prohibit the sale, purchase, possession and use of firecrackers and F2 guns to citizens for personal use.
Source: jutarnjilist