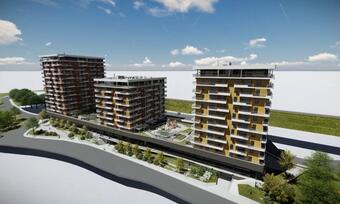 Interlocutors of Poslovni denvenik say that the interest of buyers is great and that, among those who are interested in apartments within the RIO-Kantrida complex, a large number of those from abroad, especially, they add, from the Croatian diaspora, mostly from Germany and Austria, but also more distant markets like the US and China.
The complex consists of three buildings (A-13, B-8 and C-10 floors), with two underground floors for parking tenants, while for the needs of the shopping center on the ground floor are provided parking spaces outside the complex. A partner in the project is the traffic brokerage agency Dogma nekretnine, which has also worked as a consultant in collaboration with architects and urban planners who have been working on the project for several years. Noting that according to current guidelines, the agency has an annual turnover of almost 20 million kuna, the director of Dogma Real Estate Branko Papeš says that so far the interest of buyers from abroad has been predominantly focused on tourist destinations, such as Opatija, Crikvenica, Krka…
'While the price of residential real estate in Opatija in attractive locations ranges from 500 to 600 thousand euros, in Rijeka it is possible to go two to three times cheaper. In addition, this complex has a view of Kvarner, is close to the sea and beaches, and unlike, for example, Opatija, Rijeka is an urban area that operates all 12 months, with the environment of two schools and several kindergartens, 'says Papeš for Poslovni diary.
He claims that there is great interest from other parts of Croatia, primarily from Zagreb, but that there are also clients from Varaždin, Osijek and the rest of the country.
'These apartments are more affordable than most recent construction on that location. At a time when no one was up to buying, at the time of the lockdown, we sold a number of apartments through an online channel, therefore without direct contact. On a daily basis, we receive two to three inquiries from clients outside Croatia. It is interesting that, although the Croatian diaspora in Sweden is not large, we also sold several apartments there ', says Papeš, revealing that the project is co-financed by two banks - Erste and PBZ.
'In general, we expected a drop in sales and a drop in real estate prices, however as of March we have a price increase of five to 10 per cent. In these uncertain times, clients seem to have recognized investing in real estate as a safe investment. And about 25 percent of buyers here are buyers just for the sake of investing, to rent and potentially make an annual return of four to five percent, which is impossible interest in a bank today. There is little realization through loans, only one quarter ', says Papeš.
He notes that they are helped by the fact that Rijeka, in terms of the real estate market, has the specificity that as much as 30 percent of its turnover is not strictly related to the Croatian economy. The reason, he claims, is that a lot of seafarers and people in other industries who work outside the country and earn part of their income abroad gravitate to that market.
'Also, unlike the rest of the country, real estate prices have never gone wild in Rijeka, so this fact is also a kind of trump card of this micro-market today. When it comes to customer interest, the proximity of European centers, the climate, a completely open environment is crucial, which is why the latest data show that more and more people are gravitating towards Rijeka, and the number of inquiries from Zagreb and Varaždin is growing. could one day become a new trend in favor of strengthening mobility ', he concludes.