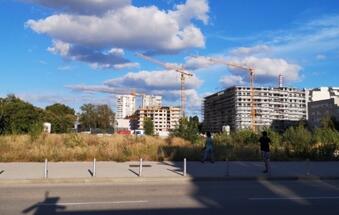 In one year, apartment prices jumped by more than 30 percent, and after the start of the war in Ukraine and the arrival of a large number of Russians and Ukrainians, rental prices doubled! Similar to Zagreb, where the prices of new residential square meters increased by 30 percent in one year, to around 2,500 euros, the average price of a square meter apartment in Belgrade in the first part of this year was 2,565 euros. That is 35 percent more than a year ago.
Belgraders gave the most money for square meters on the Savski venc, where the average was pulled down by the new contingent from the "Belgrade on the Water" complex, where the average price is over 4,000 euros, and rises to more than 6,000, while the cheapest was Grocka with an average of 1092 euros per square meter.
In Zagreb, apartments in some new locations in the city center were sold at auctions for 8,000 euros per square meter, while in one of Zagreb's newer neighborhoods, Vrbani 3, a building went up for auction at 5,000 euros per square meter.
Almost everywhere, the demand for new apartments is greater than the supply. In Zagreb, for example, around 10,000 apartments are sold annually, of which around 2,500 are new. Boro Vujović from the Opereta agency points out that the prices of the new apartments completed and delivered this year were mostly agreed at the time when the builders buried the first shovel, that is, a year or two ago. Buyers then mostly paid them because new apartments are mostly bought with cash. The price at which new apartments in Zagreb are sold today will be released by the statistical office only in a year or two when the buildings are completed.
Apartments must be bought and rented because the prices of subletting have skyrocketed after the arrival of a large number of Russians and Ukrainians. According to the data of the Montenegrin MUP, there are about 13,500 Russian citizens and about 11,100 Ukrainians residing in that country temporarily or permanently. The citizens of Montenegro can barely pay the increased rent because the leases have become too high compared to the salaries there, reports Večernji list.
Source: SEEbiz / Večernji list