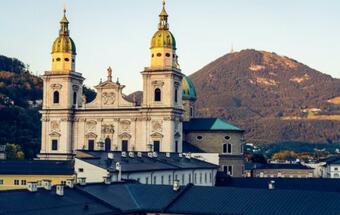 House prices jumped even more, by 12.5 percent, to 2578 EUR / m2.
"The three most important parameters of residential property prices are location, location and location," a Viennese real estate agent told me in the 1990s.
This is true even today, not just for living in larger cities. Some Austrian provinces are obviously more attractive to property buyers and consequently much more expensive. The Austrian Federal Bureau of Statistics announced that last year the average price per square meter of a family house in Burgenland was 1,639 euros, while in Vienna it was almost three and a half times higher: 5,542 euros / m2, writes the World of Capital.
The second cheapest country for a home buyer last year was Carinthia (2041 EUR / m2). In general, property prices in southern and eastern Austria - with the exception of Vienna - are lower than in the west. Last year, the average price of houses sold in Styria was 2,106 EUR / m2, in Lower Austria 2,486 EUR / m2, and in Upper Austria 2,630 EUR / m2.
Houses in western Austria are much more expensive, in countries where the province is dominated by high alpine peaks and where there is relatively little building land: in Tyrol last year the house cost 4660 EUR / m2, in Salzburg 4776 EUR / m2 and in Vorarlberg 4919 EUR / m2.
Vienna now has almost 1.9 million inhabitants and is six and a half times larger than Graz, the second largest Austrian city with just over 290,000 inhabitants. Most housing, of course, is being built in Vienna, but its population has also risen sharply in the last decade and a half, and demand for apartment buildings has jumped by almost a quarter of a million.
The rise in property prices in the Austrian capital is also influenced by numerous investors, both domestic and foreign, who are buying apartments in Vienna.
Since the beginning of this century, apartment prices in the Austrian metropolis have risen two and a half times. In 2021, the average price per square meter of housing in Vienna was 4905 euros, but there is an even more expensive Austrian state. In Vorarlberg, west of Tyrol, the average price per square meter of living space last year was 5,082 euros.
Vorarlberg is a very densely populated country, whose largest cities are Dornbirn, Feldkirch, Bregenz and Bludenz. Between the Alps and Lake Constance, along the borders of Germany, Switzerland and Liechtenstein, as well as not far from northern Italy, Vorarlberg is one of the most economically developed parts of Austria. It also has a rich tourist and cultural offer, so it is not surprising that there is a great demand for real estate in this country.
According to Vorarlberg and Vienna, last year the most expensive square meter of living space was in the Salzburg region (€ 4,630), followed by Tyrol (€ 4,573), Upper Austria (€ 3,113), Lower Austria (€ 3,100), Carinthia (€ 2,960) and Styria 2787 euros). Traditionally, apartments are the cheapest in Gradišće, where they cost an average of 2,105 EUR / m2 last year.
In the sale of apartments outside large urban centers, the largest growth was recorded in the part of Tyrol called Tyrol Unterland. This is the eastern part of North Tyrol, where there are no big cities. The largest of these is Kufstein with less than 20,000 inhabitants, but in this part of Tyrol is also the fashionable Kitzbühel, where the jump in apartment prices has affected the significant growth of the average price in the whole region.
Those who planned to build a house but did not have building land paid an average of 84 EUR / m2 per plot in Austria last year - if the sale was private. If the construction land was sold by a public owner (state, state or municipality), the average price was 73 EUR / m2.
Plot prices vary greatly from country to country: in Vienna last year, a square meter cost an average of 656 euros, and in Styria only 57 euros. In between are Vorarlberg (522 EUR / m2), then the state of Salzburg (266 EUR / m2), Tyrol (261 EUR / m2), then the relatively cheap Upper Austria (87 EUR / m2) and Lower Austria (84 EUR / m2). m2), at the end of the scale below-average Burgenland (68 EUR / m2) and even cheaper Carinthia (62 EUR / m2).
Land prices in Vienna have risen the most recently. They also grow above average in other major Austrian urban centers, as well as in well-known tourist destinations. Well-known tourist centers have been places with very expensive building land for years. Wealthy people can afford 1,789 euros per square meter, which was the average price of plots in Kirchberg in Tyrol last year, and 1,736 euros in Kitzbühel in Tyrol.
But if we analyze not only Vienna as a whole, but also the prices of plots in some of Vienna's city districts (Vienna has 23 of them), the most expensive building land in Austria last year was in the 19th Vienna municipality, a resident of Döbling on the slopes no. Viennese forests. They are sold for an average of 1912 EUR / m2.