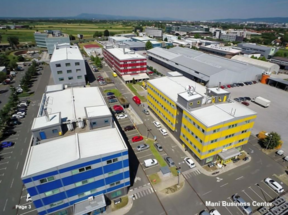 M7 acquired the Mani Business Centre, a 13,915 sq m multi-tenanted office building, in December 2016 on behalf of M7 Central European Real Estate Fund I ("CEREF I"). Following the purchase, M7 focused on improving the appeal of the property through selective capital expenditure, remarketing the property in order to lease up vacant space and engaging with existing tenants to improve relationships.
As a result, the occupancy has increased significantly to 91% from 54% on acquisition, the tenant retention rate has improved to 100% and the WALT has been more than doubled to 3.4 years from 1.4 years. The current passing rent is approximately €980,000 p.a. providing a circa 20% yield on debt.
Mirta Ceranac Poljak, Managing Director of M7 Real Estate in Croatia, commented: "Our successful asset management strategy for the Mani Business Centre emphasises our ability to apply our local market expertise to oversee the turnaround of underperforming assets. The positive results and stabilized asset performance were recognized by Erste Bank when approving the loan facility. The facility improves the funding structure for the property and also demonstrates that liquidity is improving in the Croatian market.
"We envisage the M7 the partnership with ERSTE Bank to be replicated with future investments we make in Croatia and other CEE markets."
Boris Centner, Member of the Management Board of Erste Bank said, "Our client, M7, is a leading specialist in the real estate market in Europe and the region and we are extremely pleased to have provided financial support to them to help them realise their business plans. Erste Bank aims to provide the best support for its customers, striving to individually tailor a package of financial services that will effectively help their business. Of course, this applies not only to a broad range of bank products, but also to the entire Erste Group in Croatia. "
For more information, please contact:
Richard Sunderland / Claire Turvey / Eve Kirmatzis, FTI Consulting
+44 (0)20 3727 1000
Note to Editors: M7 Real Estate Ltd is a pan-European investor and asset manager specialised in multi-let real estate. M7's team consists of over 225 staff operating across a platform spanning 13 countries comprising the UK, Croatia, Czech Republic, Denmark, Finland, France, Germany, Hungary, Luxembourg, the Netherlands, Poland, Portugal and Slovakia.
Established in 2009 and wholly owned by its senior managers, M7 manages a portfolio of c.1,300 assets comprising 111 million sq ft of GLA with a capital value of c. €7.7 billion.
M7 acts as an investment and asset manager to a series of funds that it has established and in which it co-invests alongside a large number of family office, high net worth and institutional investors. In addition, M7 has a number of joint ventures with private equity partners including Blackstone, H.I.G. Capital and Starwood Capital. M7 also has separate account mandates where it acts as a third party asset manager for the portfolios of institutional, family office and high net worth investors including M&G Investments and MIRA.
Additional information about M7 can be found at www.m7re.eu